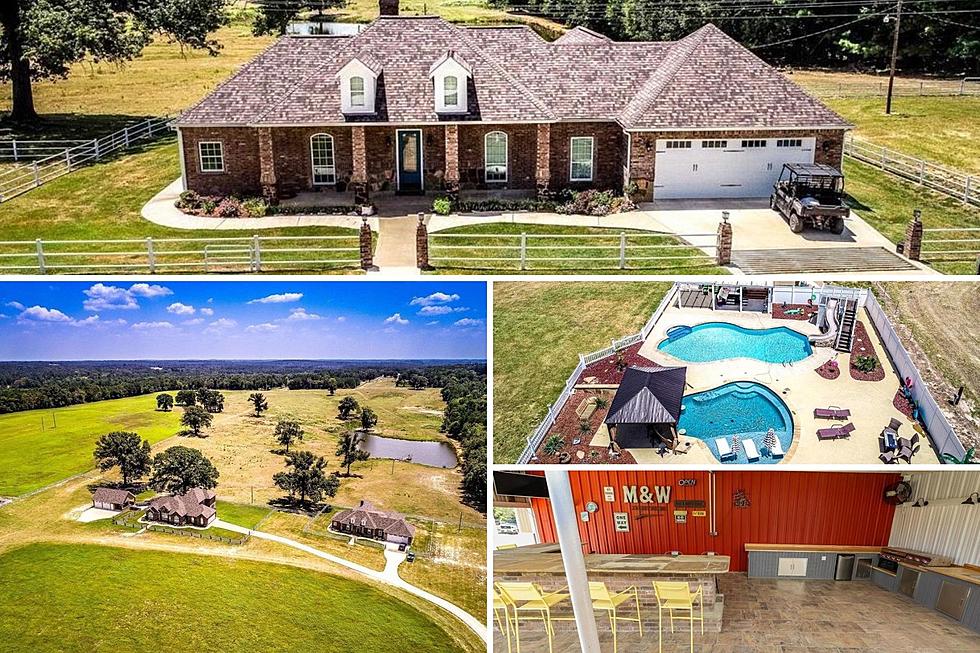 Own a Beautiful 140 Acre Farm Just Outside Tyler, Texas
Mark Coleman via realtor.com, Canva
So many people dream about owning a farm, ranch, or at least having a lot of acres of land in the great state of Texas. And there is a property that I just found online where someone is going to be able to make that dream a reality. There is a 140-acre ranch that is currently for sale that is located between Tyler and Longview in gorgeous East Texas. 
The address is 7211 County Road 235 Tyler, Texas 75707. Obviously, with a piece of property this big there is a lot to tell you about, including three homes on the property. The main home is 3,300 square feet with 4 bedrooms and three bathrooms. The second house is over 2,500 square feet with five bedrooms and three bathrooms. And in house number three there are three bedrooms and two bathrooms in over 2,700 square feet. This property is located just off Hwy 31 East. 
There Is Lots More to Talk About
Beyond three very nice homes there are two pools to enjoy. There are hay barns, equipment barns, and working pens on the property. This place would be amazing if you have the $4,850,000 to pay to own this large piece of land and 3 beautiful homes. You could also turn this into an event facility if that is something you're interested in doing.  
You'll Love the Pictures of This Property
The photos of this property look incredible, you will love them. Scroll down just a little bit so you can see them for yourself. And remember if you buy this place don't forget to send us an invite for the housewarming party.  
140-Acre Farm For Sale Near Tyler, Texas
If you want to buy a farm or ranch in Texas you need to see this amazing property currently for sale in East Texas.
1,122 Acre Farm For Sale in Winona, Texas
This property has everything you need if you like to spend time outdoors, look at this farm in Winona!