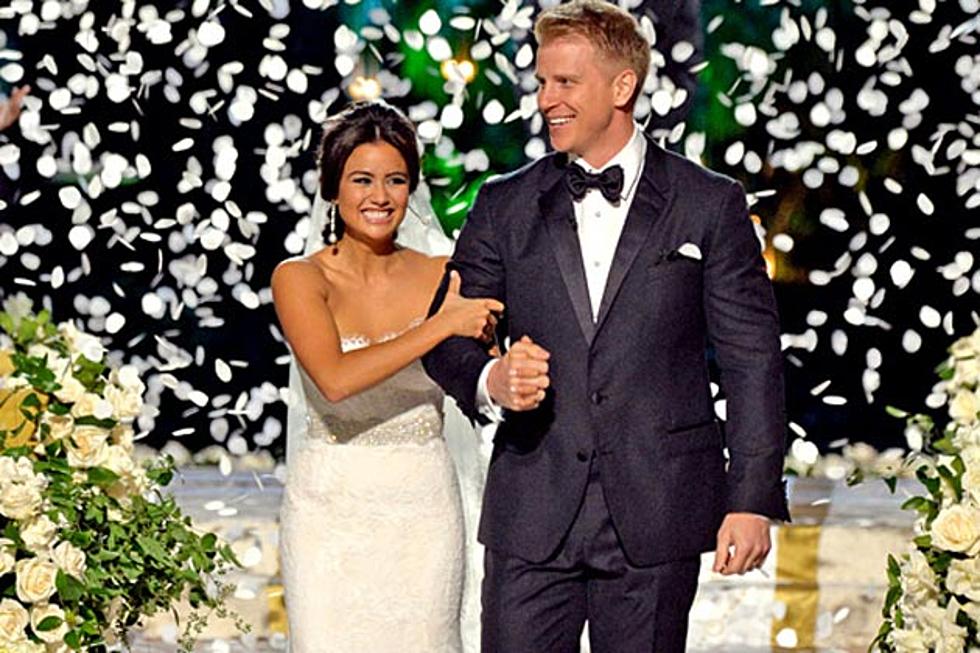 Sean Lowe + Catherine Giudici of 'The Bachelor' Get Married on Live TV!

Courtesy of ABC
Single no more! Sean Lowe and Catherine Giudici of Season 17 of 'The Bachelor' are married. The pair swapped vows last night (Jan. 26) in front of friends, family and millions of their closest friends aka viewers.
The wedding came 10 months after the couple found love on the reality show and got engaged on the finale. Their nuptials marked the first-ever live, televised wedding in the mega franchise's history. So they invited 'The Bachelor' faithful to be a part of the ceremony, which was almost like a testament to the fans driving the show's popularity.
The wedding took place at the Four Seasons resort The Biltmore in Santa Barbara, Calif. Sean's parents Sherry and Jay walked him down the aisle and Jay officiated! So the father of the groom had a dual role. Giudici wore a lovely Monique Lhuillier gown that hugged her slender frame. It was a gorgeous, strapless, lace frock.
The most heartfelt and sweet passage from her vows?
Sometimes I think I'm going to explode from how much I love you. I'm completely consumed by you. And tonight, we get to become one. I promise to love you until after my heart bursts, I promise to love you until after our children are old and gray...You're my dream and my reality, my future and my present, my whole heart and my best friend...I thank God for bringing you to me and igniting that light. I can't wait to shine together and make everybody completely blind.
Was that not the most romantic thing you've ever heard? We're like swooning over here.
Sean matched her vows with passion and authenticity.
From the moment I met you, I wanted more. I wanted more of your infectious smile, I wanted more of your adorable giggle, and I wanted more of your love. You had me hooked from the beginning...I know that we met on The Bachelor so that I could fall in love with my best friend. Every day, I am encouraged by your love, and as your husband, I promise to always put you first. I promise to be the best father I can be to our children, and I promise to always make you laugh with my silly faces and ridiculous voices...I love you, and I'm going to love you for eternity.
Congrats to the beautiful and madly in love pair.