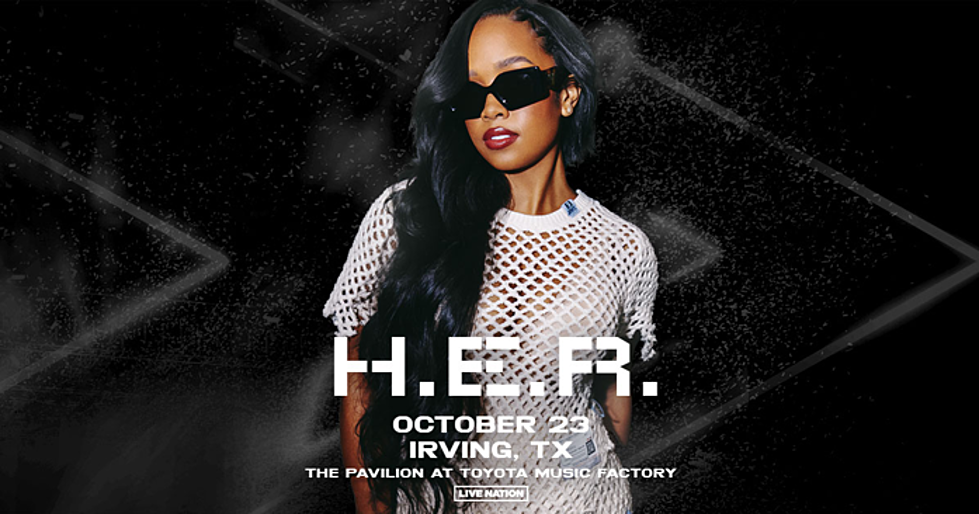 Singer & Songwriter H.E.R. Bringing Live Show To Irving, TX
Live Nation
One of R&B's Biggest Stars Is Coming Back To Texas For A Special Show!
Over the course of five years, with 25 GRAMMY nominations and five wins to date, an Academy Award and an Emmy, singer/songwriter/multi-instrumentalist H.E.R. has had an incredible journey, punctuated with inspiring projects and accolades that have quickly ascended her to superstar status.
H.E.R. Has Several Smash Hits That Have Become Instant Classics Like "Damage".
H.E.R.'s 2016 debut EP, "H.E.R. Volume 1" was met with critical acclaim, as the world was just beginning to learn about this teenage wunderkind. "H.E.R. Volume 2" arrived a year later and reached the Top 10 Billboard R&B charts.
H.E.R.'s eponymous compilation project in 2017 marked a whole new era for the artist in a short amount of time. The GRAMMY Award winning, RIAA-certified Platinum body of work topped the Billboard R&B charts, armed with hit singles like the Platinum "Focus" and the four times Platinum "Best Part" with Daniel Caesar.
In 2019, H.E.R. and producer partner Live Nation Urban introduced the Lights On Festival, the first female-owned and curated R&B music festival in decades.
Additionally, H.E.R. kicked off 2021 in the most stellar of ways by winning two GRAMMY Awards – Song of the Year for "I Can't Breathe" and Best R&B Song for her contribution to Robert Glasper's "Better Than I Imagined," plus an Academy Award for her powerful song "Fight For You" from the Warner Bros. Pictures film Judas and the Black Messiah.
H.E.R. also added acting to her resume when she starred as Belle in ABC's "Beauty and the Beast Live" in December 2022
H.E.R. will also join the all-star cast of "The Color Purple" musical film adaptation as "Squeak" in 2023. Widely regarded as one of music's most admired and respected musicians at only 25-years-old, H.E.R. is phenomenal performer you have to see live!
H.E.R. today announced a live performance at The Pavilion at Toyota Music Factory in Irving, TX, on October 23.
Tickets will become available on Friday, July 21 at 10 a.m. at Ticketmaster.com so don't miss out on catching this young legend in person.
9 Items That are Common to Leave in Hotel Rooms
Hotel guests can accidentally leave behind a variety of items in their rooms due to forgetfulness or rushing during check-out. Here are some of the most commonly forgotten items in hotel rooms.
Pretty In Pink. Rent An All Pink A-Frame Home In Waco On Airbnb
If you're looking for a 'girly girl' place for a girl's weekend, this cute little A-frame home listed on
Airbnb
in Waco is the perfect destination.
Interesting Facts About the Great State of Texas
Here is a look at some little-known facts about the state of Texas.