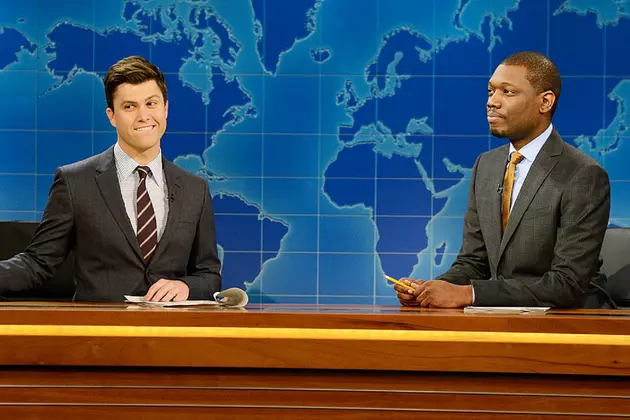 'SNL' Stars Colin Jost and Michael Che Will Host the 2018 Emmys
NBC
Weekend Update is officially going to the Emmys. NBC confirms that SNL writers and stars Colin Jost and Michael Che will host the 2018 ceremony later this year, while creator Lorne Michaels is getting back involved as well.
According to Variety, "Weekend Update" pair Jost and Che will serves as double-hosts for the 70th Primetime Emmy Awards, which this year falls on Monday, September 17. The press release also notes the ceremony will "feature special appearances from additional SNL cast members," while Lorne Michaels returns as executive producer for the first time since 1988. Jost and Che joked of the announcement, "We're proud to be the first duo hosting the Emmys since Jenna Elfman and David Hyde Pierce, and somehow that's a real fact." Said NBC:
NBC is thrilled to be the home of this year's Emmy Awards; and with Colin and Michael in the driver's seat as hosts, along with surprise appearances by other cast members of 'Saturday Night Live,' I think we are in for one of the funniest awards shows in a long time.
This is not the first time Jost and Che have taken their partnership outside of Studio 8H, as the pair also turned "Weekend Update" into a half-hour series following the Republican and Democratic National Conventions in 2016, as well as airing summer episodes in 2017. The pair were also made overall head writers for SNL last year.
Nominations for the 2018 Emmy Awards will be announced on Thursday, July 12.
Check Out 100 TV Facts You May Not Know!