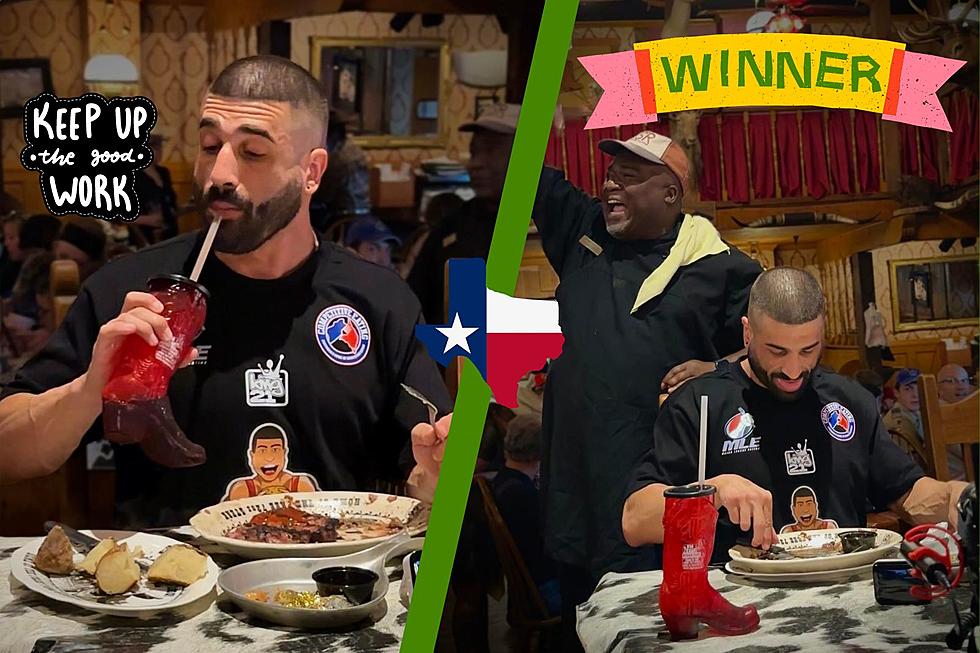 2nd Fastest Time Ever for 72 oz Steak Challenge in Amarillo, Texas
The Big Texan via Facebook, Canva
For most people eating a 72-ounce steak plus a shrimp cocktail, baked potato, salad, and roll with butter would not be something spread out over multiple days, but that is the world famous 72-ounce steak challenge at The Big Texan in Amarillo, Texas. It's amazing that some people are able to eat everything for one meal, and just recently there was a competitive eater that was able to get the job done very quickly. 
His Name is James Webb but known as Jwebby on his social media platforms, he took down the enormous steak with all the sides in just 6 minutes and 28 seconds. That time is beyond incredible. In fact, it's the 2nd fastest time to eat everything ever. I'm not sure how James was able to make it happen but he did it, although I couldn't imagine how he was feeling after eating everything in front of him. 
What's the Fastest Time Ever to Complete the 72oz Steak Challenge?
The fastest time ever to complete the challenge was when competitive eater Molly Schuyler destroyed the steak in just 4 minutes and 18 seconds. That is both impressive and a little scary that someone could actually finish all that food that quickly. 
Have You Ever Stopped by The Big Texas?
It's an iconic restaurant in Texas, although some people call it a tourist trap. If you have visited The Big Texan, please drop pictures in the comment section and if you attempted the 72oz steak challenge let us know how you did. Do you know anyone that could finish it?  
Big Texan
The Big Texan is a sight to see, especially during the holidays. They know how to decorate. Even the bear that greets you at the front door likes to get into the holiday spirit.
5 Most Expensive Steaks Served in Dallas, Texas
If you're looking for a delicious and juicy steak and don't care about the price tag, here is a list of the most expensive steaks in Dallas.