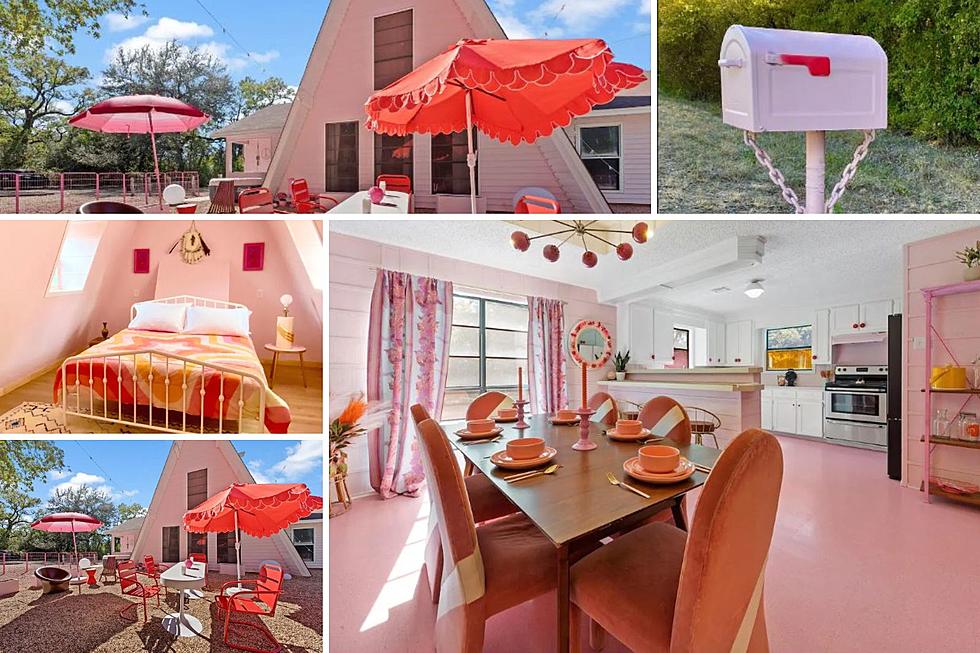 This Waco Airbnb Is Close As You'll Get To A Barbie® Dream House
Alli via Airbnb
While it's not an official Barbie® DreamHouse, this Airbnb in Waco, Texas has just as much pink as any Barbie® house I've seen!
When I first saw this listing I thought of Barbie® and that one-hit wonder from Aqua came to my mind, 'Barbie Girl' with that earworm of a hook:
I'm a Barbie girl, in the Barbie world
Life in plastic, it's fantastic
You can brush my hair, undress me everywhere
Imagination, life is your creation

 

Come on, Barbie, let's go party!
It's in your mind now for sure! While you're singing little diddy in your head, check out this Airbnb rental in Waco that is perfect for any girl's weekend, girls' vacation, girl's birthday party, bachelorette party, or anything girly!
The 'Girls' Trip PINK A-Frame in Waco + Hot Tub'
Upon arrival, you'll get to slip into a pair of complimentary pink slippers. Inside you'll find a pink refrigerator, pink covered dining room chairs, bubble gum pink vinyl flooring, pink tile backsplash in the kitchen, pink bedding in nearly every room, pink shower curtains and pink walls, and some kind of pink decor everywhere.
This property can accommodate up to seven guests in its four bedrooms and has two baths. When you split the $445 per night charge between you and your girlfriends, it's actually an inexpensive getaway. Plus, your crew can plan a shopping trip to visit the Magnolia Market and shop Chip and Joanna Gaines' silo's in Waco.
Outdoor activities are galore.
This place sits on 1.4 acres and has year-round outdoor activities. Plenty of outdoor seating underneath some large trees for shade, because we know how perfect it can be in the spring and fall, but in the summertime, we're looking for that shade! There's also a hot tub to relax in and a firepit to warm up by on those cool evenings or days.
This place is pretty popular and has received some great reviews so far.
Cassidy - We loved our stay at the Pink house! It was perfect, peaceful, and every detail was fun and adorable! Perfect for our daughters pink birthday weekend. Would be great for a girls weekend or fun shower / event as well! It's close to everything needed, but still felt private. We'd love to go again for another stay 💕💕💕
Jenny - Saw Alli's place at the last minute and booked immediately. It is absolutely adorable! So many cute pink touches throughout. Host was extremely responsive and accommodating as well. Will absolutely be back soon!
While you can't stay in a real Barbie® DreamHouse, this could pass as the next best thing!
Pretty In Pink. Rent An All Pink A-Frame Home In Waco On Airbnb
If you're looking for a 'girly girl' place for a girl's weekend, this cute little A-frame home listed on
Airbnb
in Waco is the perfect destination.
Ultra Luxurious Regal Eagle Cabin In Broken Bow Is The Perfect Getaway & Sleeps 22
If you have a large family and looking for a luxurious place to get away to, the Regal Eagle in Broken Bow, OK is now your destination
Have You Seen The Huge Hotel Hochatown Rental Cabin In Broken Bow?
'The Hotel Hochatown' lives up to the description of being a luxury cabin in Broken Bow, OK.
This Ultra-Modern Home In Hollytree Is Nothing But Pure White
In Tyler's Hollytree neighborhood, this modern-styled home is pure white throughout. There's a hint of color in the kitchen, primary bedroom and half-bath. All other pops of color come from accessories!