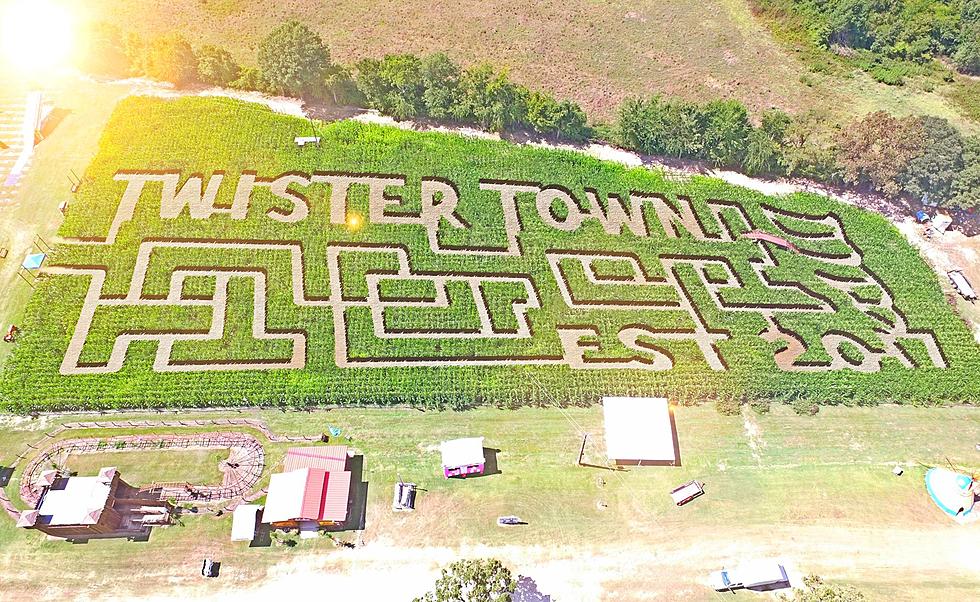 This Year's 5 Most Creative Corn Mazes in Texas
YesterLand Farm | Facebook
Everyone likes a good brain teaser, right? I love a good corn maze and when it's colder out in the fall, it doesn't feel like a death sentence if you get lost for an hour or two! But I bring water just in case.
I get lost using Google maps while driving around Tyler, so if you're going into a big old corn maze with me, you're going to learn the discipline of patience. Here are some of the coolest looking mazes in Texas during fall of 2017 thanks to a list from Travelingmom.com.
---
Come  enjoy the Dewberry Farm Trail of Lights. the farm located in Brookshire has more than just an 8-acre maze (but that would be worth the drive itself). There are eight acres of pumpkins to pick from their patch, 48+ attractions and 11 spots to get your grub on when you and your family get hungry. I mean, how many ears of corn can you snag while in the maze?
---
This is probably my favorite corn maze in Texas. The design of this 5-acre maze also has a pretty sweet play on words. You can read 'Jenny in disguise' from above. Then you notice that there's a plane buried in the middle. Disguise. Da Skies... I don't know. Am I reading into it too much?
According to Traveling Mom, this maze on average takes about 45 minutes to finish.
---
The South Texas Corn Maze in Hondo definitely follows a theme year after year. Last year, 'HEB Supports Texas Farmers'. In 2017, HEB is saluting the military. The corn maze is 7 acres big. Aside from the massive and patriotic maze, kids can also take part in pig races, the cow train, hayrides and much more!
---
One of my favorite things about these mazes is that their asking to be punny. Whether it's corn maize or Sweet Berry Farm's 'A-Mazing Texas Maze', ya gotta appreciate the corny jokes. Ahh, I made a funny.
---
KLTV reported back in April that they still expected to open by September. They did and this maze is a symbol of how strong our community is when it unites to help our neighbors in need.
So go check out a corn maze, or five and tell us which one's your favorite. Also, make sure to check if these mazes have a 'creepy' or 'haunted' theme at night. You know, if you're into that sort of thing.