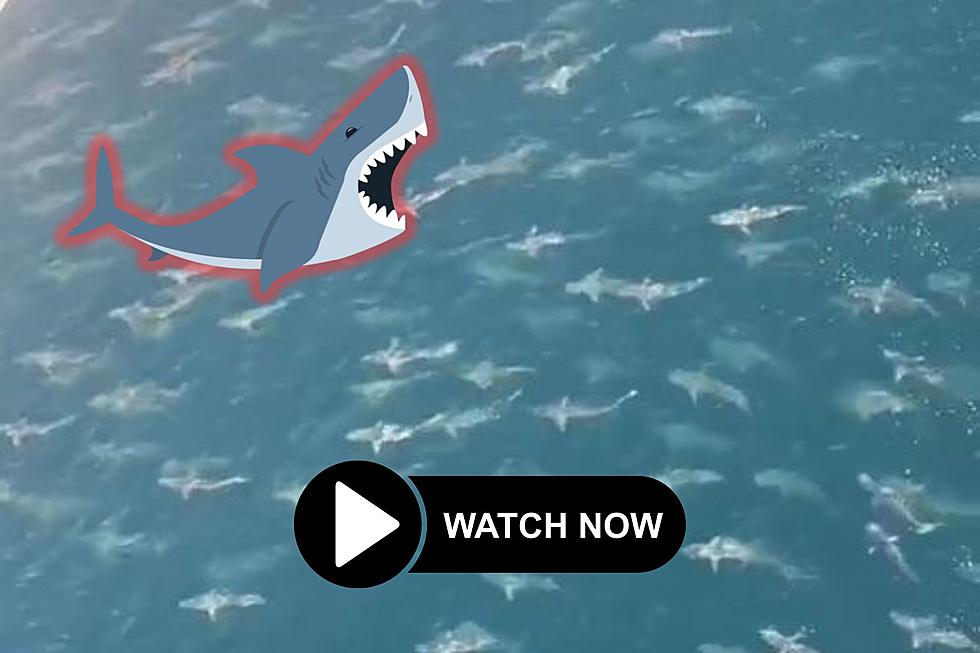 Wow! HUNDREDS of Sharks Caught on Video Swimming in the Gulf of Mexico
screenshot from Ridge Druilhot's TikTok Video, Canva
Well, you don't see this every day, that's for sure. Hundreds of sharks were caught on video swimming together off of the Texas Coast in the Gulf of Mexico near Galveston, Texas.
What's even crazier? It happened during Shark Week.
It's almost as if they knew and were gathering in some strange frenzied shark celebration. (Well, I said it's almost as if they knew.) 
A video of the sharks swimming has gone super viral on both TikTok and Facebook, racking up more than a million views. Again, not surprising any week of the year. But since it happened during Shark Week, social media consumers were likely already quite primed for shark-related content. And they were NOT disappointed with this video, that's for sure.
Take a look at the video shared by TikTok User Ridge Druilhet:
Here's another one he shared during Shark Week that has over 4 million views at this point:
Druilhet said that his brother, who works on an oil rig in the Gulf of Mexico, is used to seeing sharks, according to a report by CBS 19. However, seeing this many in one place was a "rare treat." Well, that's definitely one way to put it considering what beings we are watching swimming en masse as if attending they're all attending a shark conference.
The specific type of sharks isn't known for sure. But wow, what a sight to see. 
These are the 6 Deadliest Animals in Texas and How to Avoid Them
Texas is beautiful. However, there are some dangers that could disturb the viewing of that beauty.
Top 14 Exotic Animals That You Can Legally Own in Texas
Texas has an estimated 7.2 million dogs, more than any other state, this according to the American Veterinary Association. Safe to say, dogs are a Texan's best friend. But perhaps you're interested in branching out a bit and adding a less common exotic pet to your home.
Granted a few of these exotics are regulated and will require permits.
8 Official State Animals of Texas
Learn about all 8 of the official animals of Texas