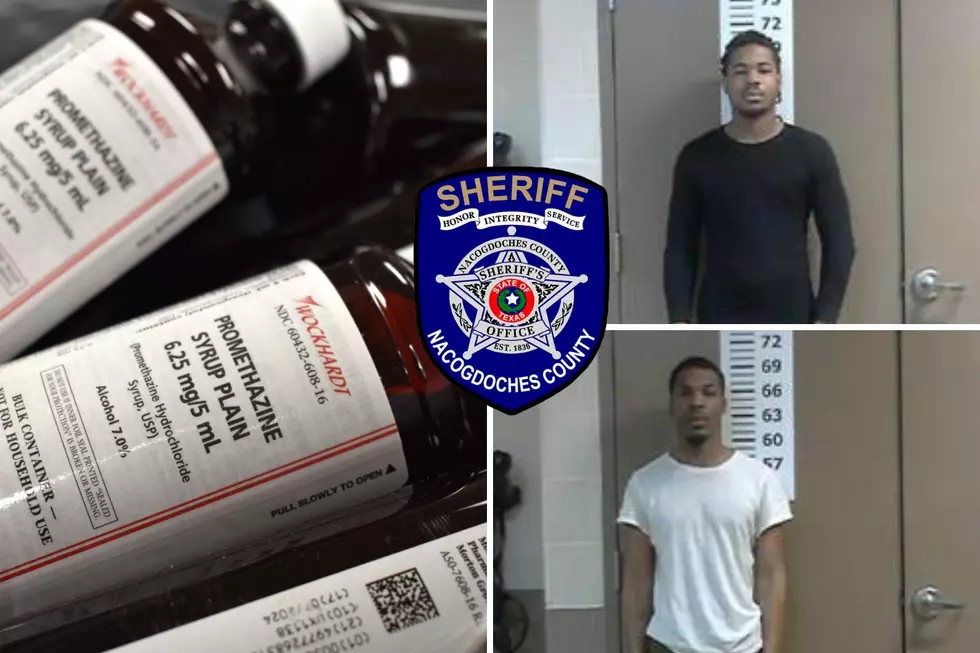 2 Men Arrested After 31 Gallons Of "Lean" Seized in East Texas
Nacogdoches County Sheriff/Canva
Promethazine, a prescription antihistamine medicine is sometimes mixed with the opioid cough medicine codeine for a combination known on the street as "Lean", "Drank" Or "Sizzurp".
A couple of guys from the Midwest who were far away from home found themselves sitting in an East Texas jail facing a ton of charges while one suspect remains on the run from police.
The Nacogdoches County Sheriff's Office seized more than 31 gallons of prescription medicine following a high-speed chase that spanned multiple counties.
According to a post by the Nacogdoches County Sheriff's Office, around 7:46 a.m. on Jan. 12, NCSO deputies initiated a traffic stop on a black Hyundai Sonata in the 8700 block of U.S. 259 N. The driver of the car failed to stop, and accelerated away from deputies, quickly reaching speeds of more than 100 mph. The driver fled north on U.S. 259 as deputies and Texas Department of Public Safety troopers pursued the vehicle, which crossed into Rusk County.
The Chase Continued Into Rusk and Panola Counties
The driver turned on to state Hwy. 315 in Rusk County as Rusk County law enforcement officials attempted to intervene in the pursuit and stop the driver. The driver reached 115 mph while evading arrest as he headed towards Panola County.
Constables in Panola County deployed spike strips in an attempt to stop the vehicle, but the driver was able to avoid them. At one point, the driver swerved towards a Panola County deputy constable, who fired at the vehicle.
The pursuit continued into downtown Carthage, Tenaha and into Timpson
The vehicle briefly came to a stop in Carthage and two suspects fled on foot. One of the individuals was apprehended, but a third individual continued to evade law enforcement in the vehicle, despite having multiple deflated tires. The chase continued southbound on U.S. 59 to through Tenaha and into Timpson before the driver stopped near the intersection of U.S. 59 and CR 414 in Panola County, where the driver was taken into custody.
Inside the vehicle, investigators found three suitcases and three cardboard boxes packed with 252 one-pint bottles of Promethazine.
The Promethazine seized following the pursuit did not contain codeine, initial field tests showed. How the suspects obtained the medicine is unclear at this time but the two that were apprehended were identified as 28 year old Demarco Bell of Chicago and 22 year old  Jaylen Joshua Johnson of Gary, Indiana.
They both face state-jail felony charges for evading arrest or detention and Class A Misdemeanor charges for possession of a dangerous drug.
Bell and Johnson were booked into the Panola County jail on charges from both Nacogdoches County and Panola County. Both have since bonded out. Bell bonded out on Jan. 14 and Johnson on Jan. 17. A third suspect who evaded arrest is currently being sought. The investigation into the case is ongoing and additional charges are possible.
Mugshot Monday: 25 People Jailed On Felonies In Gregg County
These people were jailed last week (January 09 - January 15, 2023) on felony charges in Longview.
Book a Stay at this Unique Jail Themed Airbnb in Pearland, Texas
This jail stay will be a good and memorable stay full of happy memories.
Unbelievable, 73 People Went To Jail In Smith County Last Weekend
Each weekday the Smith County Sheriff's office releases a list of people booked into the Smith County Jail from the previous day or weekend. After receiving the report today (Monday, October 10th), it seemed as if law enforcement in and around Smith County, Texas were performing their jobs quite well last weekend.