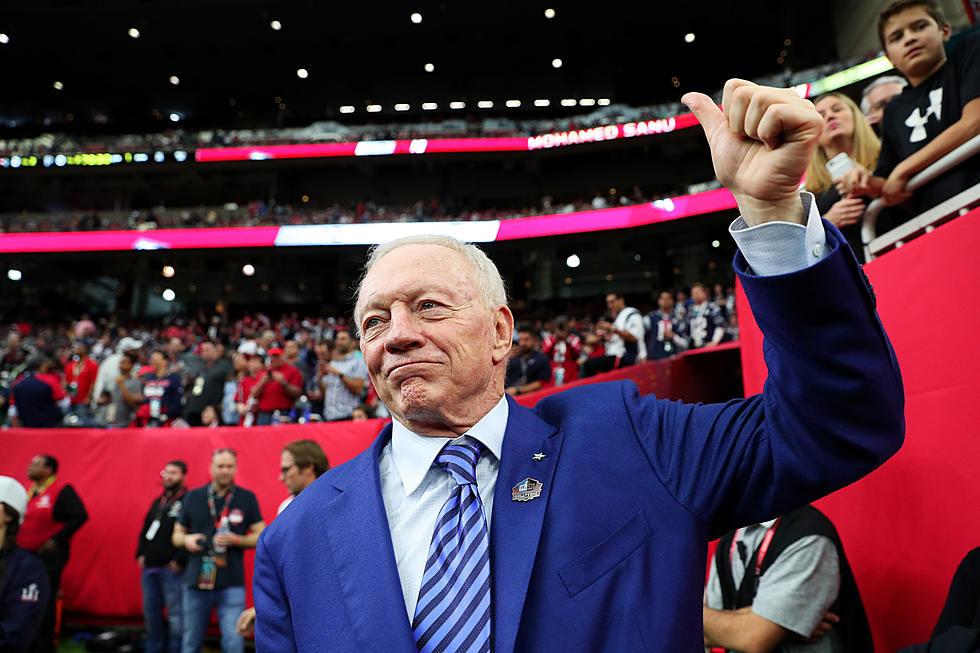 Dallas Cowboys Owner Jerry Jones Spotted In Mt. Pleasant, TX
Getty Images
While The Cowboys Are Riding High After Another Beatdown Of Their Hated Division Rivals The New York Giants, The Team's Owner Was Seen In East Texas.
Jerry Jones, the charismatic owner of the Dallas Cowboys, is a larger-than-life figure in the NFL. Since acquiring the team in 1989, Jones has left an indelible mark on America's Team.
Known for his hands-on approach, he revolutionized the business side of football, maximizing the Cowboys' brand. Even if you're not a fan of the Cowboys, you have to respect what he's done for the game.
Jones Was Recently Spotted In East Texas Hanging Out With The Owners Of Priefert Manufacturing.
The Mt. Pleasant based manufacturing company Priefert posted a photo of Jones hanging out with members of the Priefert family at their ranch to their official Facebook page on Wednesday in a post that has been shared hundreds of times.
The caption says that Jones was in Mt. Pleasant to join Bill, Eddie, and Travis Priefert to "tackle a special project" and for a "touchdown-worthy chat, covering everything from ranching to football".
Founded by Marvin Priefert in 1964, Priefert has grown into one of the largest farm, ranch and rodeo equipment manufacturers in the world.
Priefert is a family owned and operated business that has manufactured tons of products for ranchers. Its product offerings have expanded to include cattle, equine, poultry, canine, and rodeo lines, making Priefert a one stop shop for everything farm, ranch, and rodeo related.
The company continues to be a strong economic backbone for the Mt. Pleasant community and that's one of the reasons Mr. Jones had to stop by and show his support.
LOOK: Cowboys Roll Giants 49-17
Gallery Credit: Chaz
BEST PHOTOS: Cowboys Versus Eagles
Gallery Credit: Chaz
LOOK: Best Images of Cowboys Destroying The Rams
Gallery Credit: Chaz