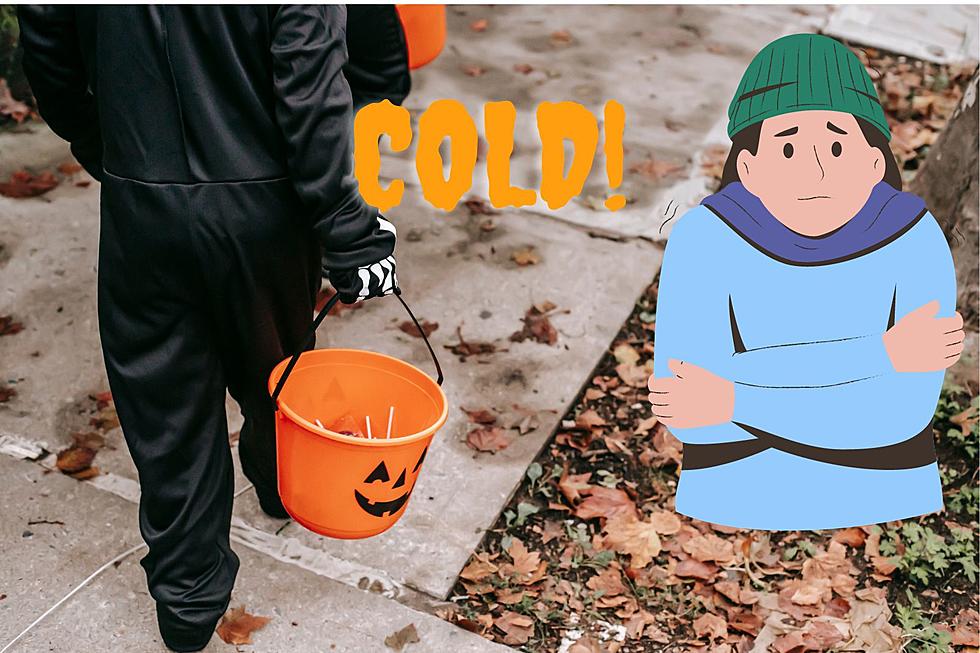 A Drastic Change Is Coming To East Texas Weather Sunday Evening
Canva
I'll just say it bluntly, Halloween is going to be one of the coldest Halloween's East Texas has seen in quite some time. It seems that when it's time for trick-or-treating in East Texas, kids and adults who dress up are either sweating underneath their costumes or they are freezing form the cold air.
This year it appears as if there are going to be a lot of little frozen princesses, ghosts and zombies going door-to-door daying 'trick-or-treat' as they're shivering and their teeth are chattering together.
Before the season's first major temperature-swinging cold front sweeps through East Texas, we will experience a few more periods of rain throughout the weekend with above-average temperatures. staying in the low- to mid-80s Saturday and mid-70s Sunday.
When is the cold weather supposed to arrive in East Texas?
The major cold front is expected to arrive Sunday evening and that's when temperatures are expected to dive into the mid-40s by Monday morning, but only rebound to near 50 Monday afternoon with the rain finally coming to an end for a while.  Here's the way things look right now from KLTV 7 Chief Meteorologist Katie Vossler.
When it comes to Halloween and trick-or-treating Tuesday evening, temperatures will be in the mid-40s with some blustery north winds. So If your kid is going as a mummy, werewolf or dressed up in a Ghillie Suit they'll probably be okay, but if they're going as a cheerleader, an MMA fighter or Wonder Woman they might need a coat!
Kids aside, if you were planning to hit up a Halloween party this weekend, you'd probably be okay going with that sexy look, but when it comes time for Halloween, you'll want to go with something that doesn't expose as much skin, say like a polar bear costume!
Happy Halloween and be safe while trick-or-treating.
13 Safety Tips For Halloween Trick-Or-Treaters
While out trick-or-treating this Halloween it's important to keep safety in mind. Here are some safety tips for those going trick-or-treating or for anyone who might be traveling in neighborhoods this Halloween.
Gallery Credit: Lucky Larry, Mix 93-1
Hottest Halloween Costume Trends of 2023 According to Google
From spooky to spectacular, check out what Halloween costumes are trending in 2023.
Gallery Credit: Danielle Kootman
Unique Pop Culture Halloween Costume Ideas for 2023
From TikTok memes to viral celebrity moments, check out 13 unique pop culture-inspired Halloween costume ideas for 2023.
Gallery Credit: Ryan Reichard
House From Original 'Halloween' Movie Is for Sale
A house currently on the market in South Pasadena, Cal. was featured in the 1978 horror classic, Halloween. In the movie, the home is the residence of Laurie Strode (Jamie Lee Curtis) and her family. Strode becomes the target of Michael Myers after he escapes a mental hospital in the fictitious town of Haddonfield, Ill.
Gallery Credit: Rob Carroll
LOOK: How Halloween has changed in the past 100 years
Stacker
compiled a list of ways that Halloween has changed over the last 100 years, from how we celebrate it on the day to the costumes we wear trick-or-treating. We've included events, inventions, and trends that changed the ways that Halloween was celebrated over time. Many of these traditions were phased out over time. But just like fake blood in a carpet, every bit of Halloween's history left an impression we can see traces of today.
Gallery Credit: Brit McGinnis