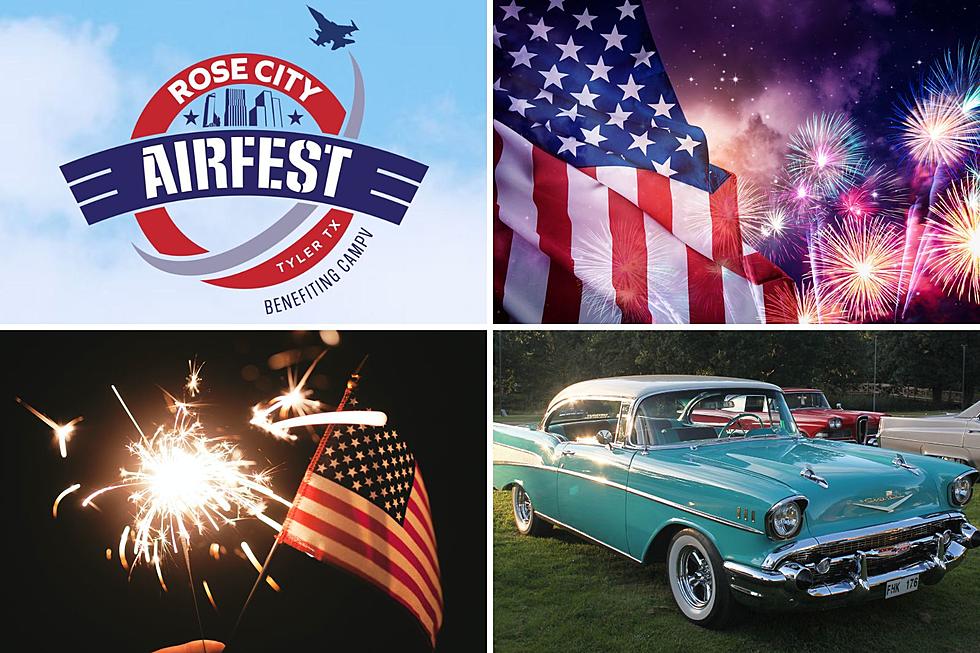 Fireworks Shows + 9 Other 4th Of July Events For East Texans
Camp V, Eve B. via unsplash and Getty Images
Fireworks season is here and so is the Fourth of July weekend. All kinds of fireworks will be going off from now through Tuesday night in neighborhoods across Gregg County, Smith County, Cherokee County, Texas, and others too. As friends and families gather to celebrate the holiday weekend, East Texas lakes are going to be busy. Lake Palestine, Lake Bob Sandlin, Lake Fork, Lake 'O The Pines, Lake Tyler, and other great lakes throughout East Texas are going to be full of boaters, skiers, people on floats, and personal watercraft too.
While many East Texans will be celebrating the 4th of July with fireworks by either putting on their own show or attending a professional show, there are other things that East Texans can do as we celebrate our nation's birthday this weekend.
It is going to be a hot weekend with temps flirting with triple digits and high humidity levels - remember to hydrate and wear that sunscreen and know what to look for when it comes to heat exhaustion and heat stroke. When you're on the lake, remember to wear your life jacket, and above all, whether you are behind the wheel of a boat or vehicle, DO NOT DRINK AND DRIVE.
Have a safe and Happy 4th Of July this weekend. Hopefully, it's an extended weekend for you.
Here are some of the things that are happening around East Texas this 4th Of July weekend.
For more specific information on any event, click or tap the name.
Friday 3p - 10p
Tyler Pounds Regional Airport - Tyler
It'll be a celebration of America that will benefit East Texas veterans and Camp V. The event will feature live performances, exhibits, and vendors and will be capped off by an airshow. The airshow will feature an F-16, F-18, and 14 additional aircraft that you can either view, walk through or fly in. All the aircraft will be featured in the airshow beginning at 6p.
Friday - Tuesday
locations throughout East Texas
Professional fireworks shows will be putting on quite the show this 4th of July weekend for East Texans. There will be shows all weekend long scattered throughout the region. Shows will be happening in Tyler, Longview, Lufkin, Nacogdoches, Bullard, Canton , Athens, Kilgore, Palestine and more places. Check this site for a full list.
Saturday @ 9a
Tyler State Park - north of Tyler
The hike will begin near the camp store and you and everyone else in the group will decide which trails to take while the hike is underway. Or you can say behind and paddle around the lake in a paddle boat, kayak or paddle board. Just bring along your water, sunscreen and bug spray.
Saturday - 9a -
Kaufman Sports Complex - Kaufman
The Independence Day celebration will get underway with a parade at 9a followed by a car show on the square from 11a - 1p. Activities begin around 4p at the sports complex. There will be bounce houses for the kids, a foam pit, and games along with live music too.
Saturday - 10a - 3p
Palestine Civic Center - Palestine
Cars will be competing in eight different categories for prizes. There will be live music, contests, food, and more fun. This is a benefit to send care packages to those deployed service men and women of the armed forces.
Saturday - 6p - 9:30p
Cedar Creek Lake
Head to the Lake this Fourth of July weekend for a spectacular air show that will thrill you with high-energy aerobatics and an up-close experience with the power of fighter jets, both civilian and military. This is a free event to the public and will feature the following aircraft: a USMC B-25, P-51, F-16, and MiG-17 to name a few.
Sunday - 11a - 9:30p
The Boulders At Lake Tyler - Lake Tyler
This event will feature an airshow, live music, a parade and conclude with a fireworks show around 9p.
Saturday - 7:30p - 11:30p
Lake Tyler Marina - Tyler
If you're looking for a good time with friends this 4th of July, head out to Lake Tyler Marina for some fun.
Saturday - 5p - 10p
Downtown Edom
Blues and bluegrass music will be the star of this live music event on Saturday evening. Grab a bite to eat, listen to some great music, and stroll through the best little art community in East Texas.
The 9 Best NATURAL Lazy Rivers in Texas in Which to Cool the Hell Off
If you're interested in tubing, swimming, or just sitting on the bank and listening to the water flow by, you'll find a great Texas river destination here.
5 Secret Menu Items at Torchy's Tacos
Check out the 5 tacos on the secret menu at Torchy's Tacos.
10 Delicious Options to Bring to a Summer BBQ or Potluck in Texas
Here are some easy options you can bring to a potluck or bbq you have coming up with friends and family.
10 of the Cleanest Bathrooms Found in East Texas
If you need to use the bathroom in East Texas here are some locations of facilities that are normally kept clean.