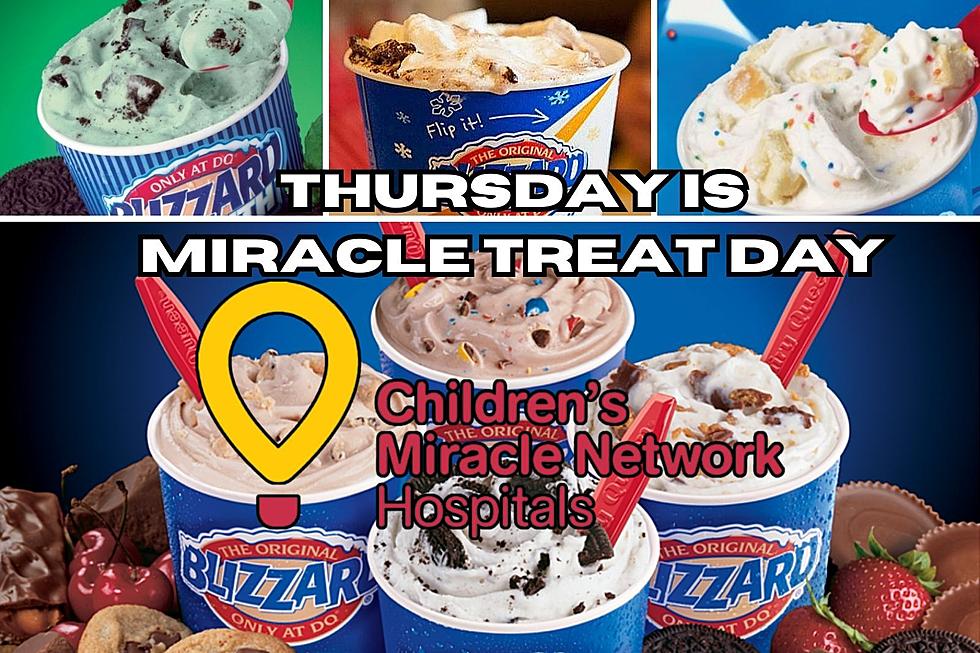 Get A Blizzard On 'Miracle Treat Day' Thursday 27th To Support CMN
Children's Miracle Network and Dairy Queen
Helping East Texas kids has never been so sweet thanks to Dairy Queen's Miracle Treat Day!
We know it's been plenty hot and humid so far this summer here in East Texas and as we find a local pool to jump off into to cool down a bit or seek the comfort of air conditioning, there's something else that East Texans turn to cool down with and that's a DQ Blizzard!
This Thursday (July 27th), East Texans can cool off with a cool DQ Blizzard and support the Children's Miracle Network at the same time because it's Miracle Treat Day.
Miracle Treat Day isn't an East Texas phenomenon, it's a NATIONWIDE campaign aimed to help improve the lives of children right here in East Texas through the works of the Children's Miracle Network.
Mix 93-1 and Dairy Queen believe in and support the mission of the Children's Miracle Network and work as hard as we can to raise funds to support pediatric services at Christus Trinity Mother Frances Health System. As a CMN Hospital, Christus Mother Francs conducts over 66,000 pediatric clinic visits annually and sees over 13,000 East Texas children in their emergency care facilities. To fund critical treatments, health care services, and pediatric medical equipment to help save and improve the lives of those children, Dairy Queen locations across East Texas will celebrate Miracle Treat Day on Thursday, July 27th by donating $1 or more from every Blizzard sold to Christus Trinity Mother Frances Health System.
Celebrate Miracle Treat Day at any of these participating East Texas Dairy Queen locations:
Tyler
1809 ESE Loop 323
2611 E Fifth St.
8850 S. Broadway Ave.
416 SSE Loop 323
16818 FM 2493 (Old Jacksonville Hwy. - Gresham)
3250 W. Gentry Pkwy.
12050 Hwy 64 E (Chapel Hill)
16941 TX State Hwy. 155 S. (Noonday)
16210 TX State Hwy. 31 W (Chandler)
11972 US Hwy. 271 (@ TX State Hwy. 155)
Whitehouse
419 TX State Hwy. 110 N
Overton
1113 TX State Hwy. 135 S
Liberty City
I-20 and FM 3053
Kilgore
1101 E Lantrip St.
Van
2789 I-20
Jacksonville
1501 S. Jackson St.
Longview
2101 N. Eastman Rd.
4101 Gilmer Rd.
5002 Estes Pkwy.
Hallsville
300 W. Main St.
Tatum
370 N. Hill St.
Henderson
1215 US Hwy. 271
Sulphur Springs
705 Main St.
1419 S. Broadway St.
Quitman
700 S. Main St.
Mt. Pleasant
1102 S. Jefferson Ave.
Hughes Springs
TX State Hwy. 11 & Main St.
Rusk
175 N. Dickinson Dr.
Palestine
2101 S. Loop 256
Athens
910 E. Tyler St.
Canton
17249 I-20
Cool off with a DQ Blizzard on Miracle Treat Day this Thursday (July 27th) and help bring premiere healthcare to East Texas kids. You can't mess up a DQ Blizzard, you make it your own with nuts, cookie chunks, candy bits, or fruit all blended in that famous DQ soft serve served upside down to you. When you stop by your local participating DQ.
Your Support Of CMN Helps Purchase Equipment Like This
By supporting the Mix With Kids Children's Miracle Network Radiothon, your dollars are being put to great use to purchase items like this to help children throughout the entire hospital system and not just CHRISTUS Mother Frances Hospital, but the clinics and ambulance services too
Great Options for Happy Hour in Longview, Texas
If you're looking for a place to go after a long workday check out one of these locations for happy hour!
12 Great Locations for a Wedding in East Texas
Thanks to artificial intelligence here is a look at 12 fantastic wedding venue options in East Texas.
10 Rules and Tips for Boating in Texas
To help keep your friends and family safe on the water make sure you follow these tips.