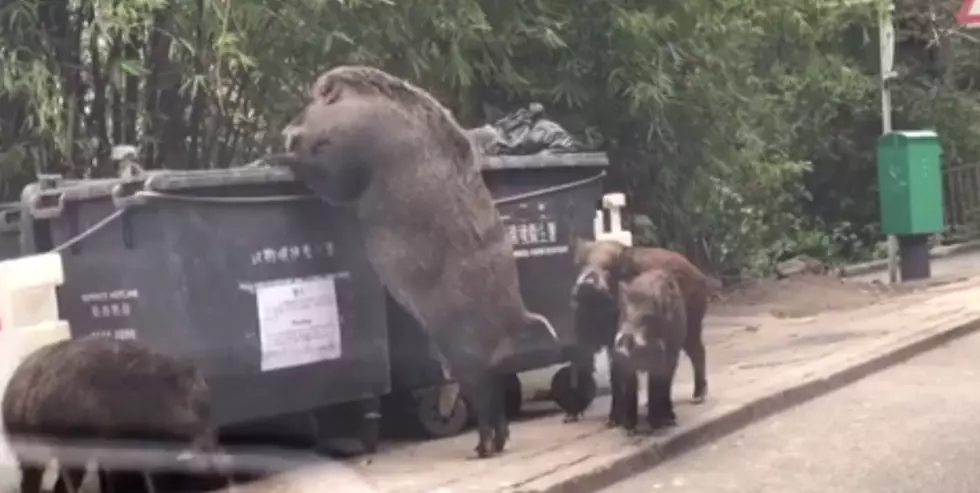 Giant Feral Boar Stands Up And Sticks Head In Garbage Dumpster
☠☠ 涂東東 專頁 ☠☠ via Facebook
Feral hogs cause all kinds of damage to fields and pasture land across East Texas and are a menace to property owners. Land owners are resorting to all kinds of methods to eradicate them to stop their paths of destruction. These animals don't care who owns the land or what it's supposed to look like. In many cases these wild hogs are even rooting up lawns leaving behind a trail of destruction wherever they go. Let's hope these feral hogs don't come as large as the wild boar caught on video in this Facebook posting.
A Hong Kong resident captured a wild boar on video standing on its hind legs stretching out its fat little neck to sniff in the garbage dumpster looking for a little bite to eat outside of a local school and posted it on Facebook. Since the video was posted and at the time of this posting, it's been viewed more that 572,000 times, shared another 6900 times and generated over 1000 comments.
Many of the comments are expressing concerns for the kids at a nearby school in Hong Kong while others are just shocked at its massive size. Now I'm sure someone reading this says they've shot one just as big or almost that same size! If you've actually done that, well, we know you took a pic of it! Share it with us in the comment section below and be sure to tell us where it happened and of course post the pic too!