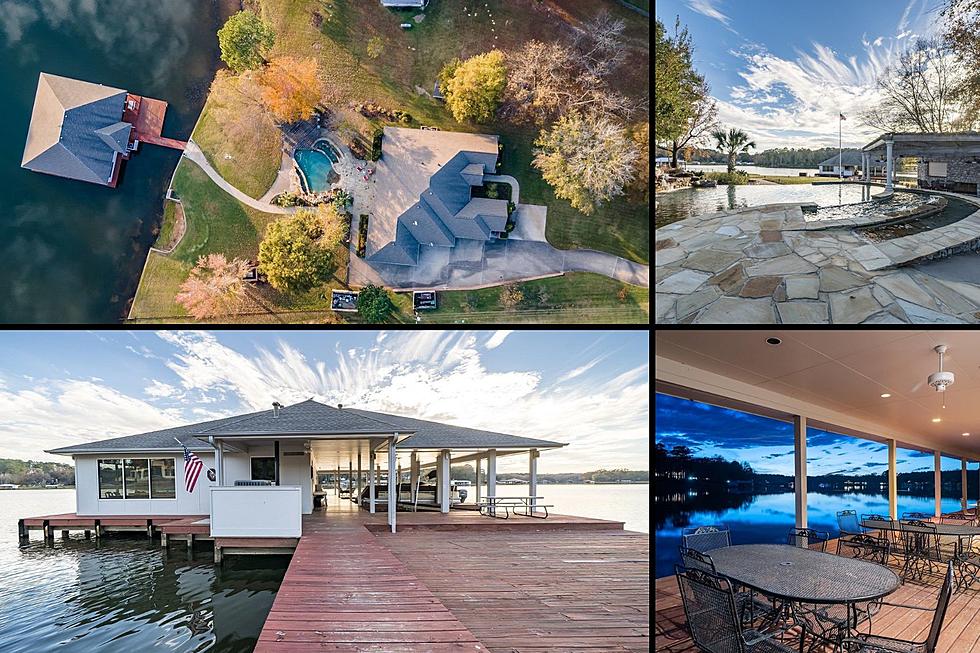 Amazing Lakefront Home in Whitehouse, TX With 2,000 Sq. Ft. Boathouse
Judy Kunzman via realtor.com
If your dream home includes being on the lake so you can relax this might be the perfect place for you in Whitehouse, Texas. The home by itself is beautiful but when you add on the huge 2,000 square foot boathouse this quickly becomes a dream property in East Texas. 
The address for this stunning piece of real estate is 13735 Peninsula Road in Whitehouse, Texas 75791. The home is 5,500 square feet with 3 bedrooms and 4 bathrooms. The home was built in 1997 and has an ideal location on Lake Tyler. This custom home has only had one owner and was created to make sure there are beautiful views from every room in the house. 
So Much to Enjoy Inside the Home
This home is perfect for inviting friends and family over to spend time on the lake but still cozy enough for morning coffee as you look out onto the lake. The home comes with a theater room for when an East Texas storm rolls through town, and a wet bar when you're hosting a party for adults who want to have some drinks. 
Outside the Home Has Lots to Offer As Well
If you want to get wet but not in the lake, there is a resort style pool located in the backyard, with a hot tub, and even a swim up bar. This property is so nice and there is still room to make it better. I might remove some of the wallpaper from inside the house but it's just about preference, and these are just minor changes nothing big. 
Let's look at this amazing home in Whitehouse, Texas currently listed at $2,750,000. 
Whitehouse, Texas Home For Sale With Giant Boathouse
If your dreams involve living on a lake you should check out this amazing property in Whitehouse, TX.