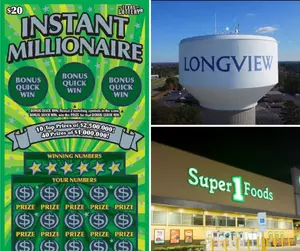 Longview Has a New Millionaire Due to a Winning Scratch-Off Ticket!
Photo courtesy of Texas Lottery, GoogleMaps
I can't remember the last time I played the lottery. In fact, I think I've only ever played once because someone gave me a scratch-off ticket. I think I won $5. But now, I'm thinking it may be time to give it a go again.
Congratulations to Longview's newest millionaire! (Well, unless they were already were a millionaire.) Either way, I have a feeling this Longview resident is gonna have a much happier weekend.
As you might imagine, the winner has opted to remain anonymous. Something about becoming flush with cash overnight--it tends to add a little extra stress to personal relationships.
The ticket was purchased at Super 1 Foods, located at 2301 W. Loop 281 in Longview.
The Longview News-Journal reports the winner "won the prize playing the Instant Millionaire game, according to information released Thursday by the Texas Lottery. The scratch-off game costs $20 per ticket."
Whew, that's a heckuva return on investment. ;)
And here's what even more mind blowing. This is NOT the first new millionaire created in Longview in a little more than a year's time. So next time you're considering playing, you may want to make sure you buy in this fortunate East Texas city.
In June of this year, a prize worth $3 million was claimed. The winnings came from another scratch-off ticket. LNJ reports this one was purchased at Murphy Express at 301 E. Loop 281.
And than on June 7, there was another HUGE win off of a Lotto Texas quick-pick purchased at EZ Bee49 on Eastman Road. According to the Texas Lottery ALL six numbers were matched which meant a win of $5 million.
Believe it or not, that prize has still not been claimed by the winner. Can you imagine?
There was another prize worth $5 million claimed by yet another Longview resident in September. This winner, too, chose to remain anonymous. (Wise person.)
That ticket was bought at Lil Tommy's Gas & Go at U.S. 259 and George Richey Road, reports Longview News-Journal.
Hmm. Anyone else feeling inspired to give it a go? ;) Congrats to all.
Hey, let's scope out some other Longview locations for our future Lotto ticket purchases:
10 Aerial Images That Show Us Longview Like Never Before
See how much Longview has changed over the years with these birds-eye images.
Stunningly Gorgeous Longview Home Boasts 8,000 Sq. Ft.
As a Texan (and non-Texans too) we've heard the phrase 'everything is bigger in Texas and that phrase fits this Longview home perfectly.
Hilarious Responses to Longview Resident Wanting a Zoo in the Longview Area
Longview residents did not disappoint when it came to responding to someone wanting to start a petition to build a zoo in the area.
Kids' Eat Free? Yes! Here's 30 GREAT Options Around Tyler and Longview
Let me know if there are any we've left off the list! We'd like to make this as useful of a guide as possible for parents all over East Texas! Also, give a quick call before you go. Restaurants may change their policies so it's best to double-check.