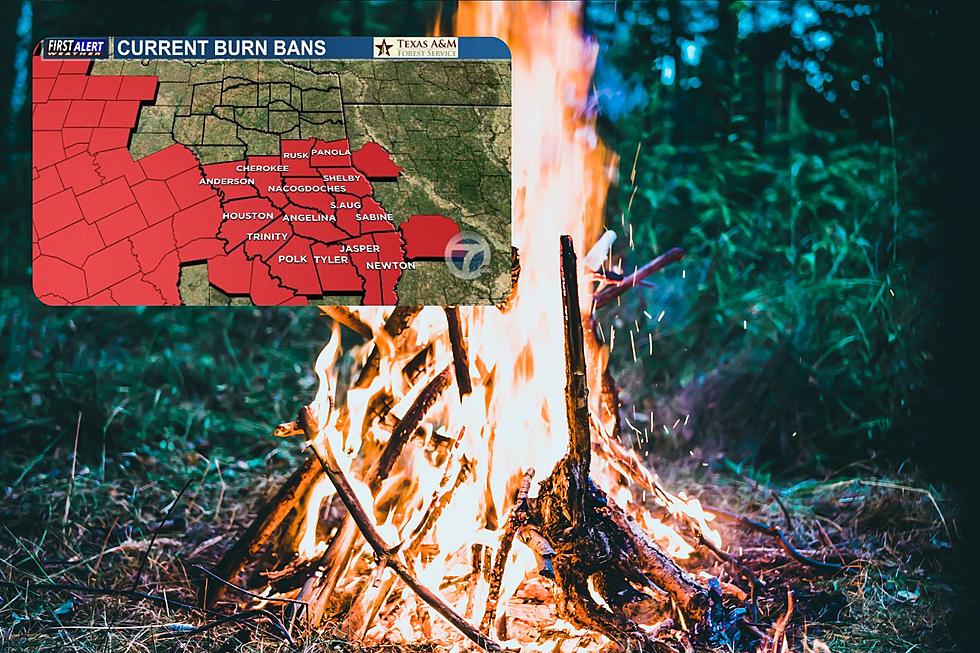 More Than Half Of Texas Is Under A Burn Ban Right Now, ETX Included
KLTV 7 and Canva
After what seems like a pretty wet spring in East Texas the skies appeared to have dried up quite a bit lately. It has been quite some time now since parts of East Texas have seen any measurable rain and there doesn't appear to be any rain on the way anytime soon. The only thing that is on the way are more triple-digit highs.
While it may seem like we've had a hot and extremely brutal summer, it's not as bad as last year. KLTV 7 Chief Meteorologist Mark Scirto showed a graphic during his weather forecast this week comparing the number of 100-degree days from last year to this year. By this time last year, both Tyler and Longview saw more 100-degree days as compared to this year.
Temperatures are continuing to climb up to over 100 degrees this coming weekend further drying out vegetation and the ground and causing an increase in fire danger. Just yesterday two large grassfires were quickly contained by Bullard Fire, Troup Fire, Flint-Gresham Fire, Whitehouse Fire, and four other local fire crews descended upon the fire to quickly suppress it.
If you don't need to do any outdoor burning, please don't. If you do, please make sure you have a source readily available to extinguish the fire. Fires during these hot and dry days can quickly get out of control.
Yesterday the U.S. Drought Monitor survey was released for the state of Texas and it appears as if more East Texas counties are being considered at least abnormally dry. East Texas county commissioners and judges have looked at this updated map and have enacted burn bans within their counties.
It is now illegal to do any kind of outdoor burning in any of these Texas counties: (Texas A&M Forestry Service)
Rusk County
Panola County
Anderson County
Cherokee County
Nacogdoches County
Shelby County
Angelina County
Houston County
Polk County
Newton County
San Augustine County
Sabine County
Tyler County
Jasper County
Newton County
Trinity County
If significant rainfall is not received during the next few weeks, more East Texas counties will most likely be added to the list.
Texas has a total of 254 counties with more than half of them, 150 total, under some kind of burn ban. While the northern and central counties of East Texas are not under burn bans, it is still advised to hold off on any outdoor burning, unless you have a reliable to extinguish the fire.
7 Unsuspecting Items That May Spark Texas Wildfires
With extremely dry conditions across the state, the following everyday items that may accidentally spark a fire.
10 Tips To Prevent Wildfires
Smokey The Bear said it best, "only you can prevent wildfires." Well, it's a lot easier said than done, Smokey. Great name for a bear trying to warn us about fire hazards, by the way.
In order to prevent wildfires, you have to first know how they can be prevented. Here are 10 tips provided by the Department Of Interior that will help you in your every day life, so you can enjoy being outside, camping, and having bonfires without it turning into a problem.
Here are their 10 tips, along with some simplified explanations from me.
An Amazing Look At 10 Texas Ghost Towns That Once Stood Proud
These Texas towns once boasted a healthy population with a thriving economy, but along the way, something drastic happened within the town causing its population decline and slow death and eventually becoming a Texas ghost town.'
If you do go on an adventure and seek out these ghost towns, please do it safely. If you go on a journey into the woods please have the landowner's permission to do so or you could be prosecuted for trespassing. Above all, be careful, courteous, and inquisitive.
6 Stinky Cities in East Texas
We didn't come up with the list - PROMISE! This is a user-generated list of the stinkiest cities in East Texas