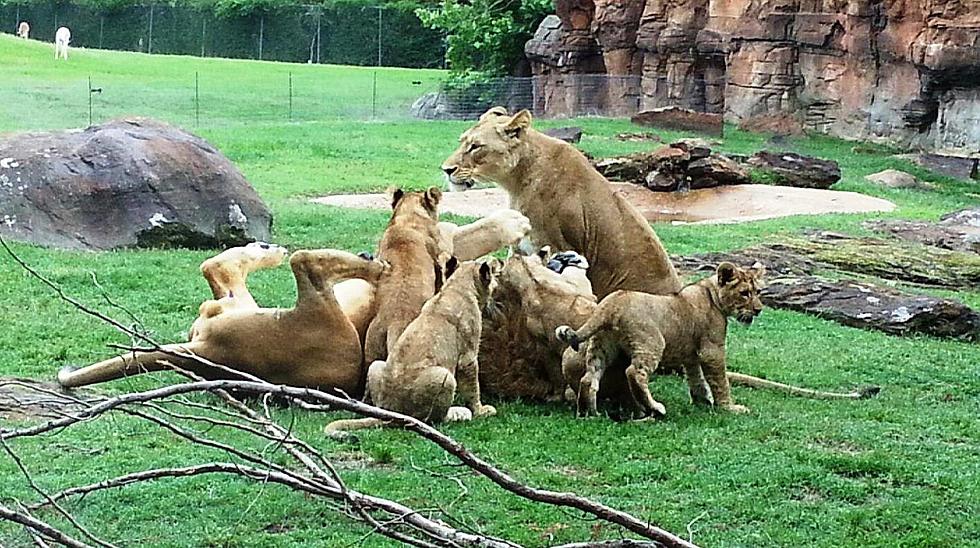 Must See Places To Visit In East Texas
Caldwell Zoo via Facebook
East Texas is known for its pine trees, its azaleas and roses, beyond the shear beauty of the East Texas landscape, there are many destinations within East Texas that qualify as 'must see'! These must see places aren't only for vacationers visiting our beautiful part of the great state of Texas, these places are also for locals too!
Among the places on this list is a drive thru safari to the east of Jacksonville, in Recklaw, that my family really enjoys visiting a couple of times each year.  Cherokee Trace Drive Thru Safari is home to numerous wildlife from around the world in which you drive thru the countryside observing these animals in nature, not in cages. They're free roaming and quite spectacular! There are many choices for you and your family on our following list that includes family centered activities to adult activities.
When you're trying to come up with a plan with the family for a weekend event, or visiting East Texas and wanting to know what there is to do here, consider these following 'must see' East Texas destinations!
Caldwell Zoo via Facebook

Caldwell Zoo via Facebook

2203 W. Martin Luther King Jr. Blvd. - Tyler

903.593.0121

Plan to spend a couple of hours walking around this 85 acre zoo exploring wildlife from all corners of globe.

210 E. Oakwood St. - Tyler

903.595.7232

Your kids will not want to leave this one of a kind train museum sitting along side the tracks of the Union Pacific Railroad! There is railroad memorabilia along with several model train exhibits in operation.

420 Rose Park Dr. - Tyler

903.597.3130

It's fitting we have a rose garden in the rose capital of Texas! Visitors can walk through and get swept away thanks to the aroma of beautiful roses of all varieties and color in bloom.

903.597.5338

Spanning over 900 acres north of Tyler, this state park offers patrons numerous biking and walking trails, fishing, camping, hiking, paddle boating and more!

Tiger Creek Wildlife Refuge via Facebook

Tiger Creek Wildlife Refuge via Facebook

903.858.1008

Committed to the preservation of life for tigers, lions and leopards, Tiger Creek is the home for abused, neglected and unwanted tigers and other big cats. More than 40 big cats live on this refuge.

903.894.8995

This local winery is changing the perception that wine just doesn't come from northern California! Kiepersol grows and produces artisan wines that are manufactured and sold right here in East Texas!

1600 WSW Loop 323 - Tyler

903.534.2169

An educational destination for kids of all ages! This museum has more than 450 mammals, eptiles, birds and aquatic animals on display from Africa and North America. The museum is free and also has a huge attached playground for the kids to explore.

903.533.8011

A destination for any kid! This museum hosts interactive exhibits for everyone, like the dino dig, TV station, rock climbing wall, playing the role of a banker, baker, grocer, a trial lawyer, judge, bailiff and more! This is so much interactivity happening within the Discovery Science Place.

Gregg County Historical Museum via Facebook

Gregg County Historical Museum via Facebook

214 N. Fredonia St. - Longview

903.753.5840

Displaying Gregg County's rich cultural history, this museum displays antiques along with historical photos and so much more as its related to the history of Gregg County, Texas.

215 E. Tyler St. - Longview

903.753.8103

With a mixture of permanent and traveling exhibits, the Longview Museum of Fine Arts plays host to so much more throughout the year.

Longview World of Wonders via Facebook

Longview World of Wonders via Facebook

112 E. Tyler St. - Longview

903.212.4969

An imagination playground for kids of all ages! The kids, and adults too, can build it in the invention garage, shop in the market and opening soon an interactive exhibit about energy and coal, natural gas and oil with many more activities too.

Cheokee Trace Drive-Thru Safari via YouTube

Cheokee Trace Drive-Thru Safari via YouTube

1200 County Road 4405 - Jacksonville

903.683.3322

Spanning more than 300 acres, this drive thru safari features dozens of endangered and exotic animals in a natural setting.

East Texas Oil Museum via Facebook

East Texas Oil Museum via Facebook

1201 S. Henderson Blvd. - Kilgore

903.983.8295

Centered within the heart of East Texas oil country and close to the worlds richest acres (in number of oil derricks), this museum takes a look at how the oil industry shaped the East Texas economy after the oil boom of the 1930's and beyond.