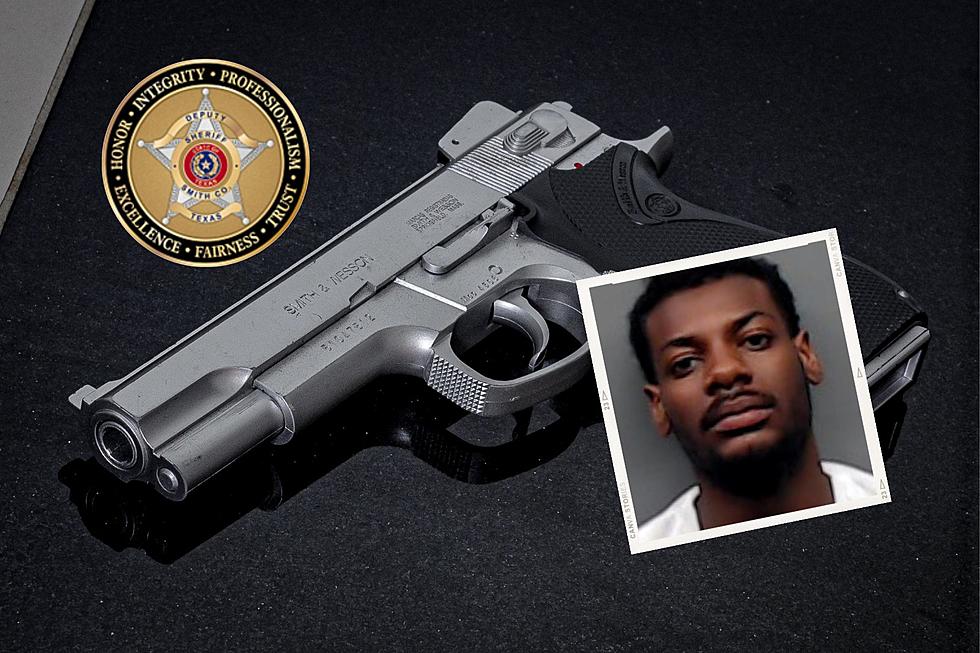 Smith County, TX Man Arrested After Road Rage Shooting Incidents
Canva
The Smith County Sheriff's Office Shared Details About A Recent Arrest Of A Man Accused Of Allegedly Shooting At Other Drivers.
According to The Smith County Sheriff's Office, on June 2, 2023 and June 13, 2023 the Smith County Sheriff's Office received two separate calls involving deadly conduct near the intersection of FM 16 and FM 14 in the northern part of Smith County.
Both of the unrelated callers reported being shot at by a male operating a black Jeep SUV under similar circumstances.
The Smith County Sheriff's Office Criminal Investigation Division began investigating the incidents and determined that they were related based on video footage of the suspect vehicle.
Security footage was obtained capturing the suspect vehicle on June 2 following the victim's vehicle. After shooting at the victim's vehicle, the suspect vehicle is observed turning east on FM 16 from FM 14. The vehicle appeared to be a Jeep Renegade that was black in color and matching the description given by both callers.
According to the victim, this was road rage on the part of the suspect over an incident in Tyler. He was able to describe the victim as a black male with dreadlocks. Deputies also located spent .22 shell casings in the roadway at the intersection of FM 14 and FM 16.
On June 13, 2023, the second incident occurred.
According to a press release, a black Jeep Renegade followed the second victim from the Bunny's Convenience store located at Loop 323 and FM 14 in Tyler. The Jeep followed the victim past the FM 14/FM 16 intersection toward Hawkins. The victim pulled into a business on FM 14 and the suspect fired rounds from the Jeep before speeding off. Witnesses on scene stated it sounded like a .22 caliber firearm.
After further investigation, the suspect was identified as 21-year-old Ashton Ashod Smith.
Smith County Detectives were able to locate a black Jeep Renegade registered to an individual residing on FM 16 just east of the two previous incidents. Detectives drove by this address and observed the Jeep Renegade covered by a tarp behind a shed in an apparent attempt to hide the vehicle.
A Judge issued a warrant on Ashton Smith for the criminal offense of Aggravated Assault with a Deadly Weapon and set a bond of $500,000. Shortly thereafter, Smith was taken into custody at his residence located at 10900 block of FM 16 East near Tyler. Smith was transported to the Smith County Jail where he was incarcerated for this warrant.
Out Of 74 Recent Arrests In Smith County, 26 Now Face At Least One Felony Charge (June 12, 2023)
All individuals are considered innocent until proven guilty in a court of law. Some have posted bail and are out of jail at this time while others wait for a bond hearing or court date. Some of the individuals below were detained by Smith County deputies and are being held on a US Marshal, Federal, or Immigration detainer. All information was obtained through an open records request and provided by the Smith County Sheriff's Office.
6 Most Common Crimes Committed in Tyler, Texas
Crime happens everywhere but here is a look at the most common crimes committed in Tyler, Texas.
A $5,000 Reward Offered for a Texas Fugitive Wanted in Henderson County
These Texas 10 Most Wanted and 10 Most Wanted Sex Offenders are hiding from Texas law enforcement, including from Henderson County authorities, so they don't go to, or back to, jail.