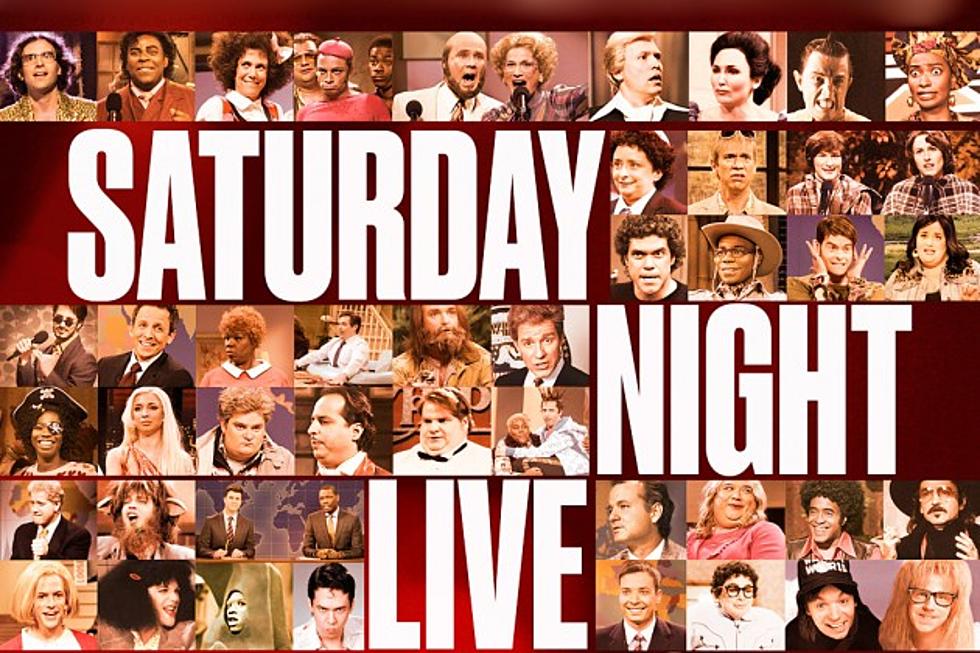 'SNL' Marathon Airing 19 Days on VH1, Leading into 40th Anniversary
NBC
NBC has been surprisingly quiet about 'SNL''s impending 40th anniversary special, but VH1 has upped the nostalgia ante in a major way. VH1 Classic will begin a 19-day marathon of 'SNL''s 40 years on January 28, working backwards through 433 hours and staging themed mini-marathons along the way.
It's a bit difficult to follow (as was FXX's plan to air every 'Simpsons' episode ever), but we'll break it down for you. Staring January 28, VH1 Classic will air the season 39 finale, running episodes in reverse back to 1975. Along the way, certain days will be dedicated to themed 'SNL' marathons, as outlined below:
Saturday, January 31 (4 PM – 10 PM)

Six episodes featuring pop superstar Justin Timberlake, now one of "SNL's" most popular guest hosts.

Tuesday, February 3 (6 AM – 2 PM)

An eight-hour celebration of some of the biggest pop artists in the world, including Christina Aguilera, Black Eyed Peas, Maroon 5, John Mayer, Pink, Britney Spears and Usher.

Friday, February 6 (2:30 PM – 10 PM)

Former "SNL" cast members return to take on host duties. Featuring Dana Carvey, Chevy Chase, Phil Hartman, Mike Myers and Martin Short.

Saturday, February 7th (12-10pm)

"Remembering Chris Farley": Highlights from Farley's brilliant "SNL" career including Chippendales dancer, insightful interviewer on 'The Chris Farley Show,' graceful Lunch Lady, beautiful Gap Girl, and Chicago Bears Super Fan.

Sunday, February 8 (1 PM – 12:30 AM)

Party Time! Thirteen straight episodes featuring legendary sketch "Wayne's World," starring Wayne Campbell (Mike Myers) and Garth Algar (Dana Carvey) direct from the basement studio in Aurora, Illinois.
Wednesday, February 11 (9:30 AM – 12:30 AM)

"The Eddie Murphy Years": Mr. Robinson, Buckwheat, Gumby, Dion and more of Murphy's legendary characters from the 1981-1984 seasons, not to mention a visit to "James Brown's Celebrity Hot Tub Party."

Saturday, February 14 (2:30 PM – 10 PM)

Five episodes hosted by Steve Martin from the series' first three seasons – featuring Georg Festrunk: the original "Wild and Crazy Guy."
As if that weren't enough, Saturday nights at 10:00 P.M. will also feature the movies of 'SNL' alum, including 'MacGruber,' 'Black Sheep,' 'Trading Places' and 'Blues Brothers.' The specials and marathons will all run until 8:00 P.M. on Sunday, February 15, as 'SNL' begins airing its three-hour special on NBC.
Will you tune into 'SNL''s big VH1 Classic marathon? What about this Saturday's season 40 premiere with Kevin Hart? tell us what you want to see from the 40th anniversary of 'Saturday Night Live' in the comments!