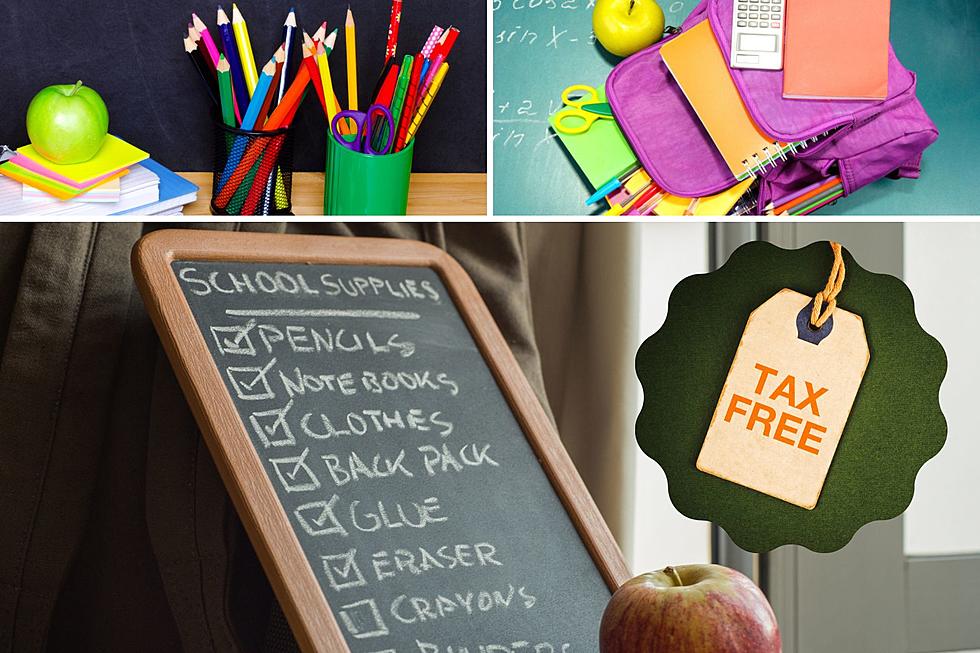 Time To Save Money During Texas Tax Free Weekend. August 11th – 13th
Getty Images
The school zone lights will soon be flashing again. The school bells will soon be ringing again. The beeping of alarm clocks will soon be waking up students way too early. It will soon be time for school to begin in East Texas. Retailers in Tyler, Longview, Marshall, Henderson, Athens, Texas and more are definitely letting you know that it's 'Back To School Season'.
The first day of school is quickly approaching and it's time to start thinking about purchasing those much need school supplies, backpacks, and school uniforms. While thinking about purchasing all of those items you can't help to think or wonder how you're going to pay for it all because school supplies and essentials are expensive. There is some relief thanks to the Texas Sales Tax Holiday weekend. While you still have to pay for essentials, you'll be saving money because a majority of those required items can be purchased tax-free from Friday, August 11th through Sunday, August 13th.
During this annual sales tax relief event you can buy most clothing (including school uniforms and athletic apparel), footwear, backpacks (less than $100), and school supplies tax-free from any retailer or online business within the state tax-free.
Texas Sales Tax Holiday weekend is Friday, August 11th - Sunday, August 13th
The list of items that are tax-free is extensive. A complete list can be found here along with restrictions and exemptions. Taking a brief look at the list, here are some of the highlights of the clothing items that will be exempt from tax:
Athletic socks
Select backpacks
Coats and jackets
Select sports equipment
Cloth or deposable masks
Select shoes
School uniforms
Here is a brief look at some of the school supplies items that will be tax exempt:
Binders
Book bags
Calculators
Composition books
Crayons
Erasers
Folders
Glue, paste and paste sticks
Highlighters
Index cards
Markers
Notebooks
Paper
Pencils
Pens
Rulers
Scissors
Writing tablets
As you enjoy the last few days of summer before school begins, prepare the list ready, shop for what you need, and save the taxes on Texas Tax Free Holiday Weekend Friday, August 11th - Sunday, August 13th.
25 Retailers That East Texans Wish Would Open Their Doors Again
Nostalgia, there's nothing like it. East Texans wish these 25 retailers (along with a few restaurants) would once again magically re-open their doors so we can shop there again.
If I've left off a retailer that you would like to see be revived,
email me
the store name anytime.
20 Creepy Crawly Creatures For Texans To Watch Out For This Summer
These are the typical insects and pests that we try to get rid of each summer in East Texas.
Tyler Residents Suggest Their Favorite Places For Chips And Queso
According to a popular Tyler Facebook group, these Tyler restaurants serve up some killer chips and queso that you just have to try.
Play Retro Pac-Man At This Broken Bow Cabin That Hosts 12 Guests
Save your quarters! This game is free when you stay in this cabin rental in Broken Bow!