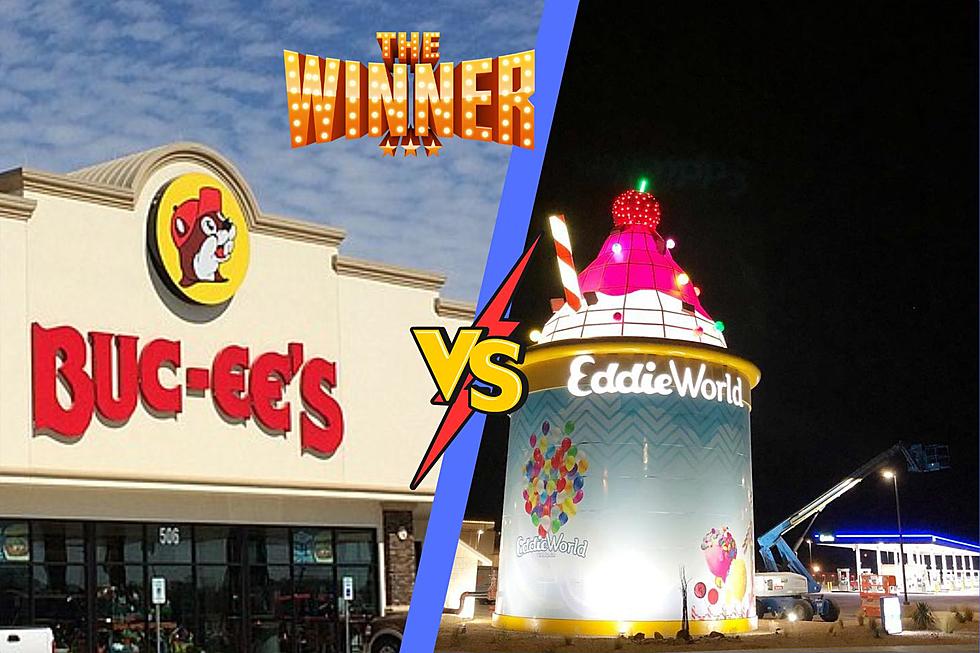 Texas has Buc-ee's, California has EddieWorld, Texas Wins Again!
Canva, Google Maps, facebook.com/eddieworld
We all know that most people LOVE Buc-ee's. I am one of those people, there is so much to enjoy from the snacks to the clean bathrooms. While Buc-ee's is loved in Texas I just found out that the state of California has a large gas station that offers many of the same things that people love about Buc-ee's although I still insist that Buc-ee's is better and therefore Texas is better too. 
Texas has Buc-ee's and California has EddieWorld, but there are some big differences between these giant gas stations. The biggest difference to me is that EddieWorld currently has just one location which is located in Yermo, California which is an easy stop for anyone traveling between Los Angeles and Las Vegas.  
Lots to Love About Both Locations
The snack choices are fantastic at both locations, you can find a huge variety of candies at both Buc-ee's and EddieWorld. Both convenient stores offer really good hot food options for people traveling for long distances, Buc-ee's has brisket sandwiches while EddieWorld offers pizza and poke bowls for hungry visitors.  
Other Differences Between Buc-ee's and EddieWorld
One thing that I did like about EddieWorld was the homemade ice cream options that are available, Buc-ee's does offer Blue Bell but it's in a small freezer with just a few options available. Both locations offer a large variety of jerky options and alcoholic beverages too. But EddieWorld has draft beer and Buc-ee's just sells prepackaged packs of beer and wine. Although I'm not sure draft beer at Buc-ee's would be good, that would mean more people staying there for longer periods of time and I'm sure a few people would drive after having some beers. 
Here is a look inside EddieWorld, I want to know which one you prefer. 
Buc-ee's Rival Located in California Called EddieWorld
Buc-ee's is loved in the state of Texas but in California there is a gas station that wishes that they one day create the magic that Buc-ee's does on a daily basis.
Gallery Credit: Billy Jenkins
Buc-ee's, Baby! 12 Things You Didn't Know About This Texas Fan Favorite
Gallery Credit: Tara Holley