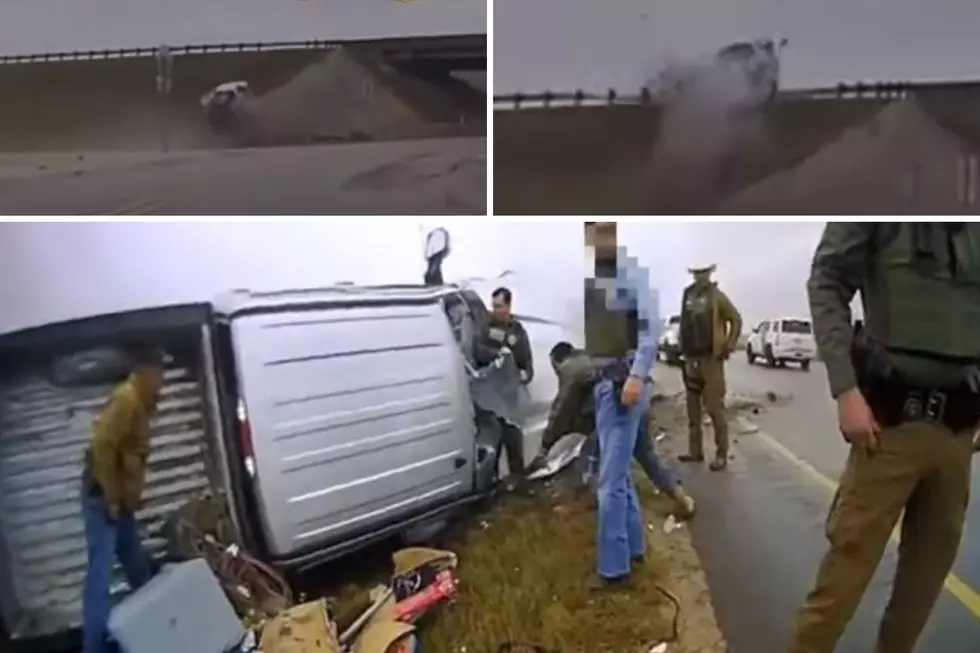 WATCH: Teen Smugglers Lead Texas DPS Troopers On Wild Chase
Texas DPS YouTube
Human Trafficking And Smuggling Continues To Be A Major Issue In Texas and The Texas Department Of Safety recently posted several wild videos to its YouTube page Of Recent Incidents Involving Smugglers.
A hot topic in politics continues to be the situation at the Texas border with illegal immigration. Smugglers across the state are piling people into vehicles and taking them across the border from Mexico into Texas and in some cases, these smugglers resort to drastic and dangerous tactics to get away from law enforcement when spotted.
A 15-year-old smuggler led DPS Troopers on a high-speed vehicle pursuit on I-35 in Frio County on Wednesday.
In a wild video posted by Texas DPS on YouTube, troopers came across a teenage smuggler carrying several people in a pickup lose control of the vehicle, drove it up the side of an overpass and crashed unto I-35.
The 12-year-old passenger was a reported runaway and involved in human smuggling. Both were from San Antonio. A illegal immigrant was found inside the vehicle and was transported to the hospital with injuries. The vehicle was reported stolen. The teen driver was arrested and charged with human smuggling causing bodily injury, evading arrest causing bodily injury, drug possession and unauthorized use of a motor vehicle.
In A Unrelated Story: A smuggler led DPS Troopers on a high-speed pursuit with a two-year-old inside the vehicle.
It happened on US-83 in Hidalgo County on Friday Jan. 27th according to another video posted by Texas DPS.  The pursuit continued off 83 and onto dirt roads where the driver bailed out and ran into the brush. Four illegal immigrants, including a two-year-old from El Salvador, were located inside the vehicle and referred to Border Patrol. The driver was found hiding in the brush and charged with human smuggling and evading arrest.
DPS Trooper Stops Human Smuggler During Traffic Stop in Val Verde Co.
Earlier in that same week on Jan. 23, just after 7 a.m., a trooper stopped a vehicle for a traffic violation on SL-79 near Del Rio in Val Verde County. During the stop, the Trooper determined the driver was involved in human smuggling. Five illegal immigrants were recovered from the vehicle, including a male Iranian National who was found hidden inside the trunk. The driver, from Houston, was arrested for smuggling of persons. All five illegal immigrants were referred to Border Patrol.
22 Felony Arrests in Gregg County, Texas 1/25 - 1/30/2023
Crime does not pay and these individuals, if convicted by a jury of their peers, could be spending a lot of time in jail for their offenses.
Book a Stay at this Unique Jail Themed Airbnb in Pearland, Texas
This jail stay will be a good and memorable stay full of happy memories.
Spend The Night Inside This Historic Texas Bank
The Bartlett National Bank is described as a one of a kind stay in the most photographed town in Texas.