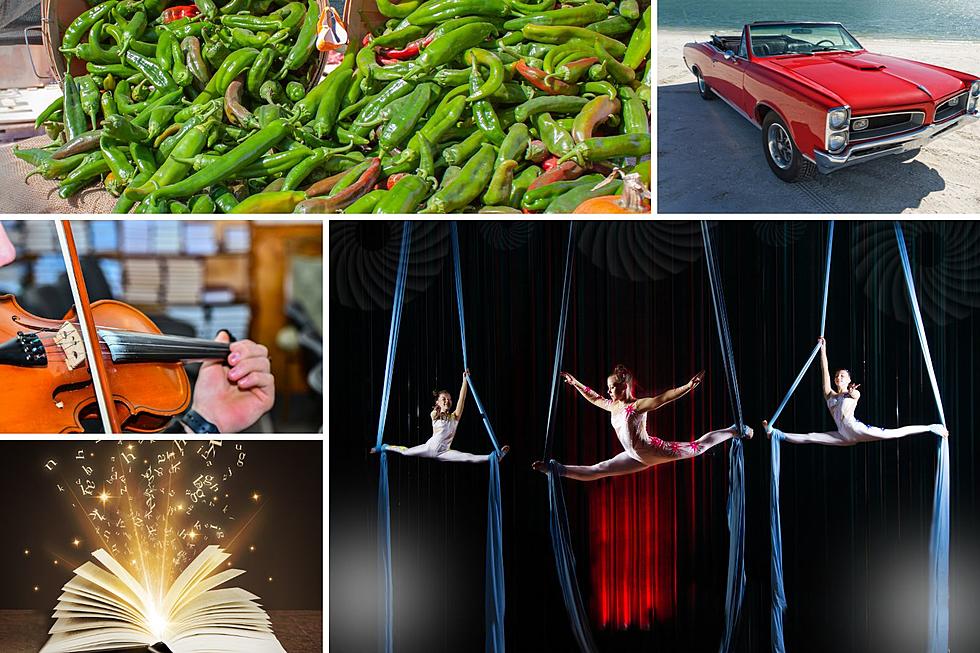 10 East Texas Activities To Enjoy On Your Labor Day Weekend
Canva
Well, we all know it's been a pretty hot and brutal summer here in East Texas.  There are a lot of us looking forward to it ending and anticipating the arrival of cooler fall temperatures. Well, this weekend summer unofficially comes to an end thanks to Memorial Day on Monday, but that doesn't mean it's going to instantly cool off for us, we know September can still be plenty hot. However, before summer ends there are a lot of fun activities left for us to enjoy on this unofficial last weekend of summer.
East Texas lakes are going to be full, barbecue grills will be fired up, friends and families will be gathering for some fun, and many will be trying to complete that 'honey do' list or project they've been working on all summer during this three-day holiday weekend.
Take a break - you've worked for it and deserve it. Have some fun this Labor Day weekend at any one or all of these East Texas events.
For more information on any specific event, simply click/tap on the event name for more complete details.
Thursday - Friday - Saturday
247 Salmon Lake Rd - Grapeland
Enjoy the sounds of bluegrass? This long-running festival is perfect for you. There will be 15 live bands playing throughout the festival each day from noon to 11 p.m. This family-friendly event will play host to several food trucks and special vendors too. One-day and weekend passes are available.
Canton First Monday Trade Days
Thursday - Friday - Saturday - Sunday
First Monday Trade Days grounds - Canton
Shop til you drop at the world's largest flea market. Home decor, arts and crafts, clothing, food, automobiles, pets, music, antiques, and many things you didn't think you could find! Bring an appetite too because there are plenty of food options that will satisfy any craving.
Friday - Saturday - Sunday - Monday
Longview Rodeo Arena - Longview - Friday
Oil Palace - Tyler - Saturday - Monday
Anderson County Youth Pavilion - Palestine - Monday, September 11th
This family circus features aerialists, clowns, jugglers, tight-wire walkers, motorcycles in a 'death globe', and many other family-friendly acts that will keep the entire family entertained.
Saturday - 8a - 1p
Paris
The aroma of hatch chiles from New Mexico will permeate the Farmers and Artisan Market in Paris this Saturday. There will be live music, local vendors, and some great food prepared with hatch chiles. Last year's event featured over 2,500 pounds of chiles straight out of New Mexico!
Saturday @ 8a
Winnsboro
It's more than a car show. This show will feature trucks and motorcycles too along with the classic cars you'd expect at a car show.
Saturday @ 9a
Downtown Palestine - Palestine
There is a lot to see, fun things to experience, and lots of shopping and eating while strolling the 44 blocks of the Palestine Main Street District. The event is held on the first Saturday of the month and there are plenty of places to quench your thirst and satisfy your appetite and to swipe your credit card to get that special something that caught your eye!
Saturday - 11a - 3p
Whitehouse Community Library - Whitehouse
The Fall Book Sale is full of books that will complete your home library. Get a bag of books for just $4. Children's books, audiobooks, and more.
Saturday @ 3:30p
Mineola Nature Preserve - Mineola
Celebrating Mineola's Sesquicentennial - bring your lawn chair and blankets for live music featuring Cory Morrow, Josh Ward, Chris Colston, and more. There will be activities for the family and kids along with vendors and food options from food trucks.
Saturday @ 7p
Lake Tyler Marina - Lake Tyler
Celebrate the end of summer with a Hawaiian luau. Dress for the occasion and fun!
Saturday @ 7p
Bergfeld Park - Tyler
The East Texas Symphony Orchestra will play its 3rd annual Symphony In The Park show on the amphitheater stage at Bergfeld Park. This is a free event for the community.
9 Beautiful Roads to Drive Down in East Texas
After asking Chat GPT for help, here is a list of beautiful roads that you should drive on if you're in East Texas.
11 of Your Favorite Businesses Created in Texas
There are so many successful businesses that got started in Texas here is a look at 11 of them.
6 Exemptions For Wearing a Seat Belt in Texas
Wearing a seat belt in Texas is the law but there are 6 exemptions to the law.
The Best Donut Shops in the Great State of Texas!
There are lots of places to get good donuts in Texas. But here is a list of the very best donut shops.