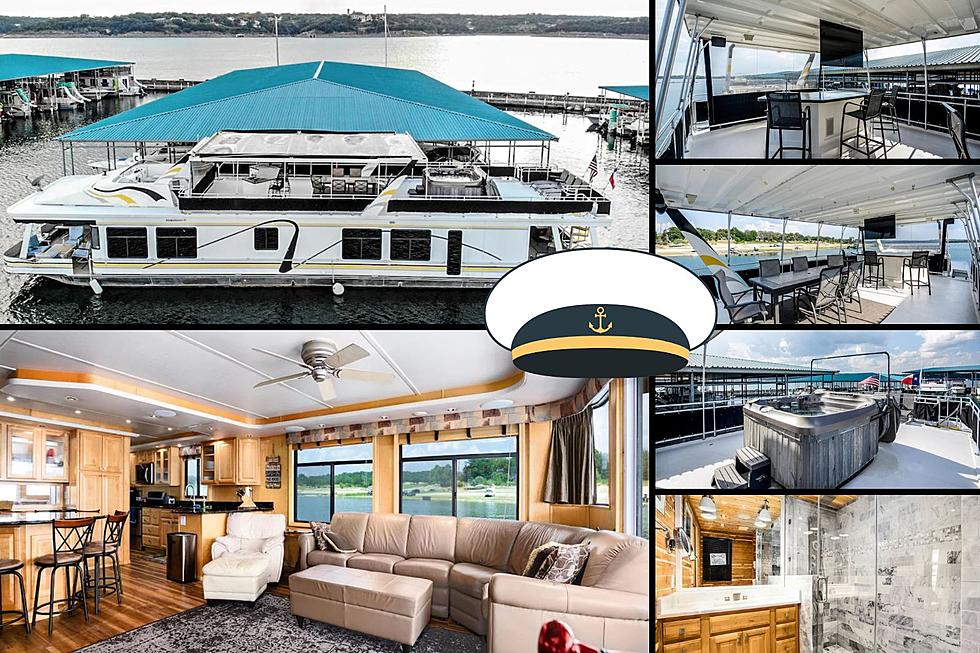 10 People Can Stay on This Houseboat on Lake Travis in Austin, Texas
Host: Frank via VRBO.com
Vacation rentals can be so unique and fun, hosts are getting very creative when it comes to decorations or creating something special for renters. While I was daydreaming of vacation sitting here at work, I wanted to see what cool rentals were available here in Texas. We know there are some fun treehouses you can rent, but I just found some really cool houseboats that would be amazing to create some fun memories with friends and family. 
After looking around at a variety of boat rentals across Texas I found this one on Lake Travis in Austin, Texas that looked like the perfect combination of fun and relaxation. After looking at the rental page there was only one thing that I didn't love about this houseboat rental and it's the fact that the boat is for dock use only. It would be fun to cruise around the lake but that isn't an option with this rental. 
Lots of Room to Share the Houseboat
This houseboat has 4 bedrooms plus a fully renovated interior. There is a great sound system ready to play your favorite music, it's set up to have a tremendous party on the water. Just remember that quiet time on the water is at 10:00 p.m. and that is enforced. 
How Many Beds on the Houseboat?
There are 3 queen beds and 1 king master suite. The cost is around $710 per night but remember there is also a cleaning fee and rental service fee. If you want to see pictures of this beautiful houseboat, let's take a look. 
Luxury Houseboat Rental on Lake Travis in Austin, TX
If you're looking for a fun vacation rental you shoulc see this houseboat located in Austin, Texas.
Mustard Seed Airbnb Offers Luxury French Country with Lake Austin Boat Dock
It's always fun to visit our Capital city. Austin, TX is famously the Live Music Capital of the World, and as such there is always something fun happening. From the night life, to concerts, dog parks, to hiking there is something for all ages at any time of the day.