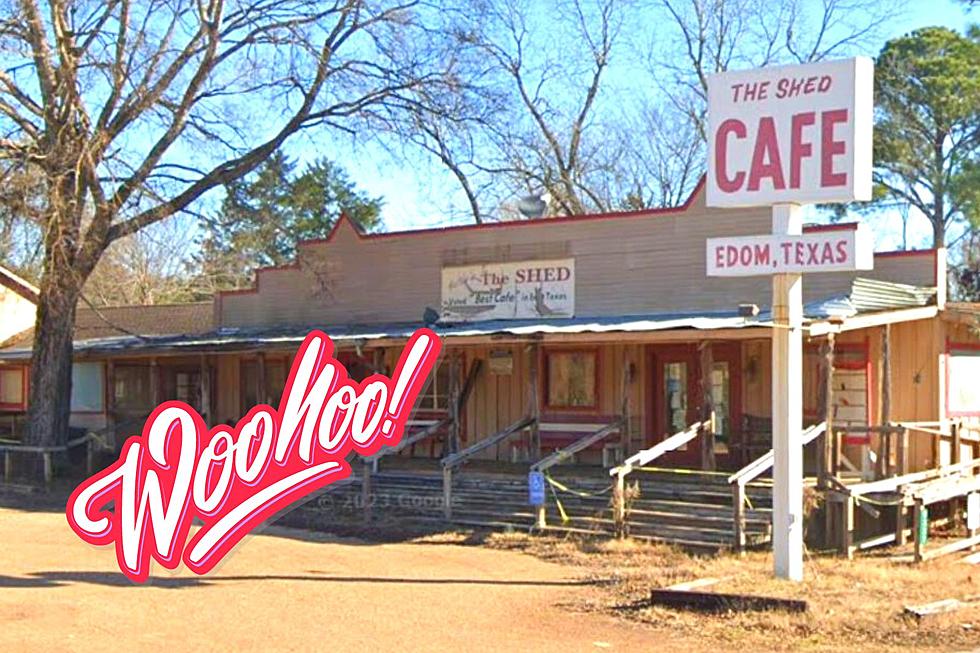 Beloved Edom, TX Hot Spot is Re-Opening Soon Under New Ownership!
Google Maps, Canva
Great news for folks in Edom, Texas, and all over East Texas, generally. A much-loved cafe will be re-opening sometime in the future--this time under new ownership!
I have so many fun memories of taking a day trip over to Van Zandt County. Whether a friend and I were headed to Canton, Texas, or just wanted to explore and shop in Ben Wheeler or Edom, I almost always wanted to stop for lunch at The Shed Cafe.
I loved the little shop there. I loved seeing the squad of motorcycles parked in the lot. I loved the rustic, cozy feel of the place and walking up those wooden steps knowing what awaited inside. This brings us to what most of us have missed more than anything--THE FOOD.
When it came to finding homestyle, comfort food in East Texas, The Shed Cafe in Edom, Texas was at or near the top of the list.
Always loved the East Texas favorites on the menu. But my very favorite thing? The PIE. One time I literally stopped in and just had pie. Three different kinds of pie. YEP. That's how I roll. But, hey--a lady needs a little variety, right? RIGHT.
ANYWAY, that's why so many of us were so sad to hear that The Shed had closed their doors. Driving by and seeing the inevitable neglect was heartbreaking. But THANKFULLY, a new chapter is about to begin for The Shed Cafe in Edom, Texas.
A new family has recently become the proud new owners of The Shed--welcome to the Otero Family!
It was announced recently that the Otero Family has become the new owners of The Shed Cafe! As you might imagine, they are in the middle of revitalizing this beloved restaurant. Keep up with the updates by following them on Facebook here. 
We're extra excited because Maria and Octaviano both were employed at The Shed in the past. While we don't if they are planning to keep the exact same menu or not, we can't wait to see what they do. And I have a feeling at least some of our favorites will be there. A post on their Facebook page says:
"Their future plans for the site are to thoroughly evaluate the tear down of the uninhabitable part and eventually remodel and partially restore the Edom landmark for re-opening!"
My hope? They'll at least keep serving up that pie that we will never get enough of in our lifetimes. CONGRATS, Otero Family!
In the meantime, if you're craving pies:
You Were Right and I'm in Love--Just Pies in Tyler is Just AMAZINGLY Yummy!
Just a little tour of Just Pies in Tyler. If you've not made your way over there yet--do yourself a favor and GO! CALLING ALL PIE LOVERS.
Log Home on 6.5 Acres in Canton, Texas
This place looks so comfortable, you're never going to want to leave after you buy it.
I Found 21 Unique, Cool and Possibly Unknown Facts About Texas
Texas has a long history before it was an independent republic, as a republic and as a state of the United States.