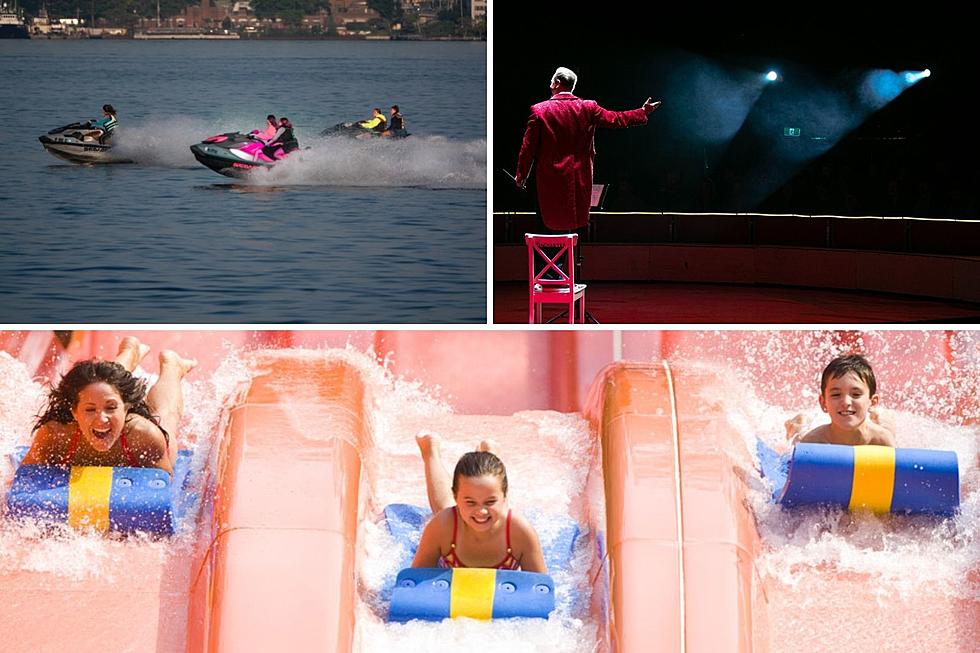 Six Fun Things To In East Texas This Labor Day Weekend
Michael Chiara, Mark Williams via Unsplash and Splash Kingdom Waterpakr.
This weekend marks the unofficial end of summer 2021. Before we close the book on summer and say goodbye, there's still plenty of things to do in East Texas this weekend.
We are all looking forward to this well-deserved long three-day weekend, hopefully, you get one, so we can relax and destress a bit. But if you're looking for something to do by yourself or with the family there's quite a bit you can get into this weekend. Usually, families are going and doing on the last weekend of summer, but because of the concern over the Delta variant of COVID-19, many families are not traveling this Labor Day weekend and opting for something a little closer to home. So with that in mind, check out our list of Labor Day 2021 weekend activities around East Texas.
Friday Night High School Football

Friday night lights are back! The sounds of the whistle, crashing pads, cowbells, flutes, drums, horns and so much more as we cheer on our hometown team to a victory. Tyler's cross-town rivalry game is Friday - Tyler Legacy taking on Tyler at CHRISTUS Mother Frances Hospital Rose Stadium. Other big games include:

Marshall Mavericks v. Longview Lobos
Gladewater Bears v. Spring Hill Panthers
Kilgore Bulldogs v. Hallsville Bobcats
Daingerfield Tigers v. Tatum Eagles
Winona Wildcats v. Frankston Indians
Henderson Lions v. Gilmer Buckeyes
Palestine Wildcats v. Jacksonville Indians
Pittsburg Pirates v Mt. Vernon Tigers

There are many other games taking place Friday night and we'd like to wish your favorite team the best of luck.

This is Splash Kingdom's final operating weekend of the summer. After Monday the waterpark will be closed for the season and will not reopen until Memorial Day 2022. So grab your friends and have one final splash in the wave pool, slide down all the slides, float the lazy river, shoot out of the Volcano and hang with Sharky on the final weekend.

Canton First Monday Trade Days

Shop, shop, shop. That about sums up a day at Canton's First Monday Trade Days. There's row upon row, pavilion upon pavilion of stuff. Lots of stuff. There's at least one thing there for everyone, even if you're not looking for something, you'll find something you need or just can't live without!

Mark Williams via Unsplash

Mark Williams via Unsplash

The circus is in town this weekend with shows happening in Longview at the Longview Rodeo Arena Friday (3rd) and in Tyler at The Oil Palace on Saturday, Sunday and Monday (4th, 5th and 6th). It's going to be an outrageous three ring circus with acrobatics, animals and more.

Michael Chiara via Unsplash

Michael Chiara via Unsplash

Seeing how it is the unofficial last day of summer, the forecast, at this time, calls for sunny, hot and humid conditions to continue right on through the Labor Day weekend, so a great place to cool down and have some fun in the water is on one of our beautiful lakes. Lake Tyler, Lake Palestine, Lake 'O The Pines, Lake Hawkins, Lake Jacksonville, Lake Fork, Lake Striker, Lake Athens, Lake Tawakoni, Cedar Creek Reservoir, Lake Cherokee, Caddo Lake and the list goes on!

When you're on an East Texas lake please remember to wear your life jackets and no drinking and boating. You might want to protect your skin with some sun block too!

If being outdoors isn't your thing and you love the comfort of air conditioning and you have kids, well, take them to Longview's Longview World Of Wonders or Tyler's Discovery Science Place interactive museums where they can hands on with some unique exhibits and learn some things about science and nature at the same time. Or you can take the kids to one of the many trampoline parks in Longview or Tyler.