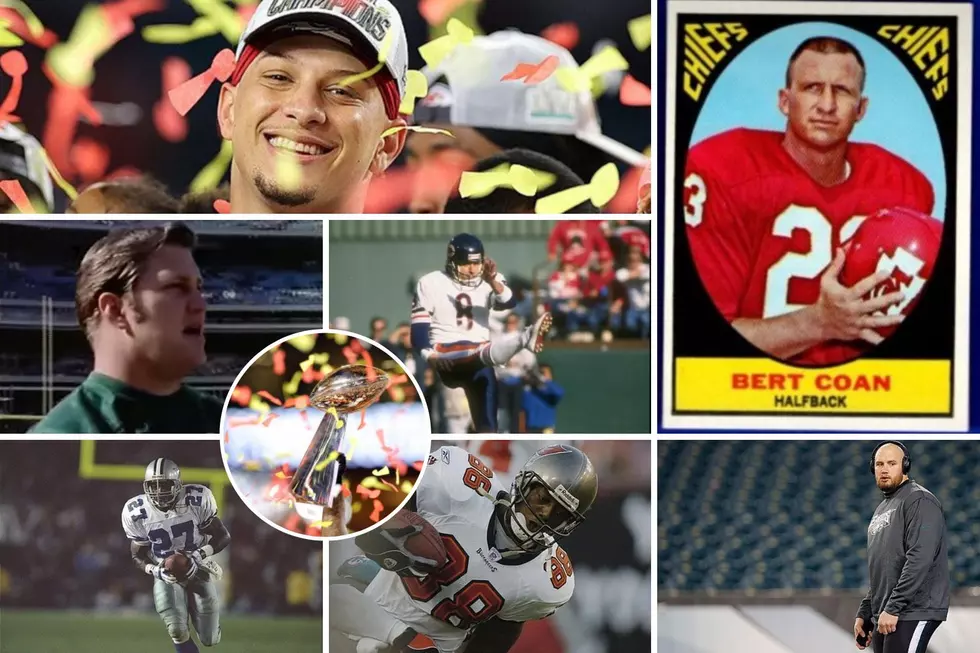 Whitehouse, Texas' Patrick Mahomes Among 26 East Texans to Play in the Super Bowl
eBay, Getty Images, YouTube
This Sunday, many in East Texas will gather with their friends around a huge spread of food and take in the biggest sporting event of the year, the Super Bowl. This year's Super Bowl features the Kansas City Chiefs versus the Philadelphia Eagles. For NFL fans in East Texas, especially for those in Groveton and Whitehouse, Texas, they will be able to root on one of their own during Sunday's game.
Super Bowl
Super Bowl LVII is in Glendale, Arizona this Sunday, February 12, at State Farm Stadium. Many will be watching just for the unique and very entertaining commercials between game action. Others will be anticipating the huge halftime show. Others will actually be there to watch a football game.
East Texans and the NFL
East Texans and the NFL are no stranger. Many of our local athletes have made it to the professional level. While many have enjoyed a good career, only a select few have made it the championship game.
How East Texans Have Contributed to Super Bowl History
Super Bowl I
Two East Texans were part of the very first Super Bowl in 1967, Overton's Max McGee and Timpson's Bert Coan. McGee played tight end for the Green Bay Packers and scored the first ever touchdown in Super Bowl history. His Green Bay Packers defeated Coan's Kansas City Chiefs 35-10 in Super Bowl I at Los Angeles Memorial Stadium in Los Angeles California. McGee helped lead the Packers back to Super Bowl II the following season.
Only Team to Ever Go Undefeated
Another East Texan who is part of not only Super Bowl history, but NFL history in general, is Tyler's Benny Malone. He played running back for the 1972 Miami Dolphins who are still the one and only NFL team to go undefeated through the season, the playoffs and then win the Super Bowl.
Ending an Undefeated Season
Another East Texan to contribute to Super Bowl history is Aaron Ross. The Tyler native played for the New York Giants. He helped lead the Giants to a championship win over the New England Patriots who came into that game with an undefeated record.
Super Bowl LVII
Last season, Longview was cheering for Travin Howard as his Los Angeles Rams won Super Bowl LVI 23-20 over the Cincinnati Bengals. For Super LVII, two East Texans will face each other for a chance at their second championship ring, Whitehouse's Patrick Mahomes and Groveton's Lane Johnson.
Whitehouse Versus Groveton
Patrick lead his Kansas City Chiefs to their first Super Bowl win in 50 years in Super Bowl LIV. It was Patrick's third season in the NFL. They beat the San Francisco 49ers 31-20. Lane's first Super Bowl win was also the Eagles first ever Super Bowl victory. They defeated the Tom Brady led New England Patriots, with their backup quarterback Nick Foles, 41-33 in Super Bowl LII.
Now it's time to see East Texas' long history of players who have not only made it to the NFL but to the Super Bowl.
East Texans Who Have Played in the Super Bowl
It's one thing to make it to the NFL. It's another to actually make it all the way to the championship game. These East Texans have done just that with their team.
Goodwill in East Texas Will Not Accept These 24 Donations
Goodwill is a great place to donate some items you don't need anymore. However, there are things that they will not accept.
You Could Never Say No to Fun in this Southlake Home
Your home is meant to relax and enjoy time with the family. You can do all of that and then some in this Southlake home.