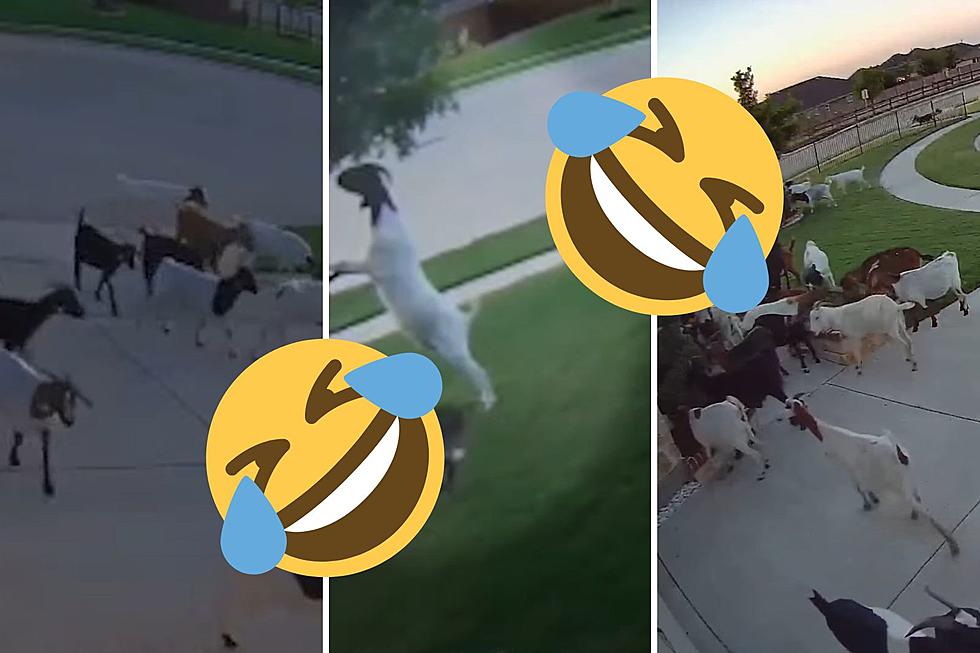 40 Goats Were Baaaaad and Invaded a McKinney, Texas Neighborhood
WFAA via YouTube
Sometimes things in life happen that just gives us a good laugh. The thing is, that thing doesn't necessarily have to be funny, we just see it as one of those things that you can't do anything but laugh about it. Sure, it could be a bit of an inconvenience, but when it's all said and done, it gave you a shot of serotonin that makes your day better. Case and point is what happened recently in McKinney, Texas when part of a herd of goats decided to do their own thing and invade a neighborhood.
Goats are an Interesting Creature
They're kinda smelly. They're kinda obnoxious. They're so ugly they're cute. But we still love them, especially when they're little babies just hopping around. They can also be good workers when you put them in a field because they will not hesitate to eat every blade of grass in it. That's what a pack of goats was doing at a land development close to the Erwin Farms neighborhood in McKinney. Thing was, about 40 of those goats in the herd decided to wander off and invade that neighborhood.
We woke up and I said, 'You won't (expletive) believe what happened on the Cove this morning.' - Garrett Piersall, Erwin Farms resident
Baaaaad Goats
Several house cameras caught the baaaaad goats moving through a couple of the front yards. They had no problem munching on the grass, bushes and even trees in the neighborhood. One resident, Garrett Piersall, didn't mind his bushes getting eaten because they were already prepared to replace them. The migrating goats just made his yard chore easier.
To make this story less drama filled, the firm that was using the goats (who didn't want to talk to WFAA) quickly came to the neighborhood and replaced anything that the goats had destroyed.
I Hope You Got a Small Dose of Serotonin
This story just made me laugh and I hope it did the same for you. The residents of Erwin Farms in McKinney seem to have gotten a good laugh out of the situation as well.
Check Out These 17 Popular Brands That Were Created in Texas
Texas is certainly an entrepreneurial state with the proof being in these 17 very popular brands getting their start in our great state.
World Champion Bull Rider Tuff Hedeman's Stephenville, Texas Home is for Sale
This four bedroom, four bathroom Texas home definitely looks like the home of a bull rider.
These are the 10 Deadliest Tornadoes to Have Struck Texas Since 1900
Tornadoes are nothing new to us in East Texas or throughout the state of Texas. Being on the bottom end of Tornado Alley means we've seen some powerful tornadoes strike in our state.