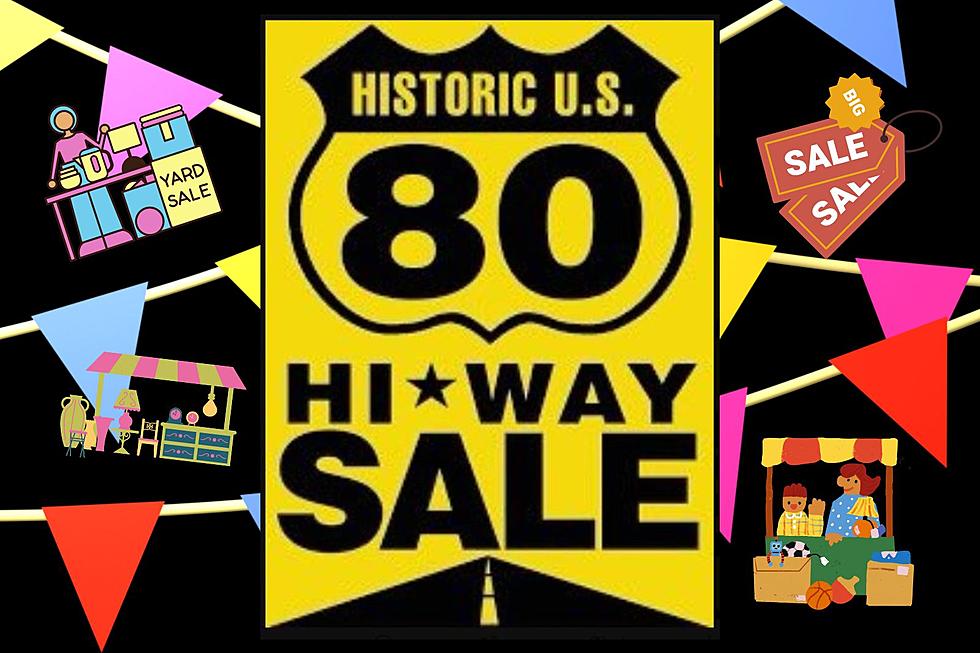 The 392-Mile Long Hi Way 80 Garage Sale Through East Texas Is This Weekend
Hwy80Sale.net and Canva
Fall garage sale season has arrived in East Texas. Cooler weather means more people are cleaning out their garages, storage sheds, and attics and selling what they no longer want to others who now want it. One of the longest garage sales in the state of Texas will be happening this weekend.
The Hi-Way 80 Sale is happening this weekend, Friday through Sunday, October 20th - 22nd along historic Highway 80 that spans across East Texas.
Thousands of garage sales will pop up along historic U.S. Highway 80 with bargains for everyone! Once stretching more than 2,400 miles across the southern part of the U.S., Highway 80 went from Savannah, GA all the way through to San Diego, CA, but nowadays the highway has been cut into segments and is no longer continuous. From Tybee Island, GA to the east side of Dallas, this is the only stretch of the original Highway 80 that remains. Other sections are now controlled by individual states or the US highway department.
October 20th, 21st, and 22nd, a 392-mile stretch of the historic U.S. highway will become the site of one of the nation's longest garage sales.  The Hi*Way 80 Sale happens twice a year, the third weekend in April and in October. Individuals along with businesses along the highway will be setting up shop for the largest garage sale that will stretch from Mesquite, Texas to Jackson, Mississippi.
This garage sale encompasses several East Texas towns, including Terrell, Wills Point, Grand Saline, Mineola, Hawkins, Big Sandy, Gladewater, White Oak, Longview, Hallsville, Marshall, and Waskom.
With all kinds of businesses opening their doors and with pop-up garage sales along the route this year, you will find something to purchase, whether you need it or not! From refrigerators to crafts, to used vehicles, clothes, lawnmowers, trinkets of all kinds, furniture, and a wide variety of other things, you will find something for you! It may take a couple of stops along the way, but you will find something.
2023 Opening Dates For Water Parks Around East Texas
When it comes to catching a break from the oppressive East Texas heat and humidity you can turn to any of these nearby water parks.
Gallery Credit: Lucky Larry, Mix 93-1
The Ultimate Guide To 9 Exciting 2023 East Texas Spring Festivals And Events
It is that time of the year for us to get outside and have some fun. There are exciting festivals and events that will be providing us with a lot of activities.
Gallery Credit: Lucky Larry, Mix 93-1
Play Retro Pac-Man At This Broken Bow Cabin That Hosts 12 Guests
Save your quarters! This game is free when you stay in this cabin rental in Broken Bow!
Gallery Credit: Luxury Broken Bow Cabins
21 Fun-Filled Things To Do In East Texas For Your Bored Out-Of-Town Relatives
Now it's time to take on a new adventure with the family this holiday and to kick boredom to the curb with these fun East Texas activities.
Gallery Credit: Lucky Larry, Mix 93-1